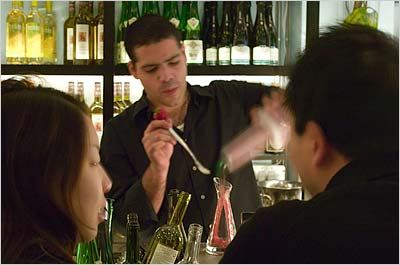 Anyone familiar with the Underground Gourmet's normally spotless lair would be in for a shock these days. It's been strewn with clothing of late, to almost Oscar Madisonian proportions, but with good reason. Repeated visits to Bar Carrera, the sleek and snug East Village tapas bar that has sprung up next to its equally sleek and snug sister establishment, Bar Veloce, have suffused our winter wardrobe with the pungent aroma of garlic and smoky pimentón, but a little airing out is a small price to pay for such gratifyingly simple, eminently affordable rewards.
Bar Carrera
175 Second Ave., nr. 11th St.; 212-375-1555


Carrera, like Veloce, considers itself a bar first, but you shouldn't. That would discredit the food, which, despite being limited to a long list of small plates (each priced at a very reasonable $3.50 per), and despite the absence of a real kitchen (everything is prepped behind the bar by a remarkably proficient, acrobatic, and mild-mannered cook-busperson-dishwasher), happens to be almost uniformly delicious. The tapas—or pintxos, as the menu refers to them, in the Basque tongue—manage the neat trick of packing big, bold flavors into smallish morsels, so it's entirely possible to feel satisfied, if not staggeringly full, after a few rounds.
The place itself seems styled to whet the appetite, with Spanish imports lining the shelves, cheeses and chocolates displayed behind glass, and troughs of crusty mini-baguettes and fresh brioche rolls, not to mention a fatty serrano ham or two, artfully fastened to its viselike jamonero for easy slicing. Clipboard menus are distributed down the length of the concrete bar and along the ledge lining the attractively tiled wall, and a single server keeps a fairly close eye on the occasionally rambunctious proceedings.
Owner Frederick Twomey will tell you that his latest venture was inspired by the men's eating clubs of the Basque country, but Bar Carrera incorporates flavors and foods from all over Spain, even ranging into the Adrià-influenced realm of new Spanish cuisine. There is a rich and tangy "chilled almond shot," somewhere between a white gazpacho and a thick almond milkshake, and a texturally unique take on pan con tomate that features a tomato sorbet-purée dappled with olive-oil powder on a grilled brioche roll. It's tasty and novel, but not as deliciously garlicky and juicy as the classic version—something that can't be said for Carrera's excellent chorizo, which is exactly as juicy and garlicky as the avid chorizo fanatic would hope.
That chorizo comes in miniaturized format, four baby sausages with a dish of mustard for dipping, or as a sandwich on a baguette, and it has proved impossible for us late-blooming chorizo fanatics to visit Bar Carrera without ordering either (or both). There are other equally addictive items: the soft, sweet piquillo pepper stuffed with a creamy tuna-and-red-pepper mousse; the twin brioche sandwiches of salty, thinly sliced serrano ham; the soft and oozy Torta del Casar spread on a baguette and drenched with syrupy candied chestnuts.
Even the simplest-sounding, least-messed-with items are full of flavor—a fact that might account for Spanish food's current popularity. Like Sample in Boerum Hill and the Barcelona tapas bar that inspired it, Bar Carrera serves some food practically straight from the jar. Marinated anchovies are lush and piquant. Olives and Marcona almonds are compulsively snackable. Still, the cook has plenty of equipment stashed behind the bar for the more elaborate items. There's a deep fryer for the regulation patatas bravas, accompanied by a dish of red-pepper aïoli, and a blowtorch to caramelize the sweet, juniper-scented slices of pork belly served with an herbal white-bean purée. And if slow-poached egg with chorizo yogurt doesn't remind you of any tapa you've had before, you can blame Wylie Dufresne, the unabashed Adrià admirer and Twomey familiar who's rumored to have contributed more to Bar Carrera than his old pinball machine (a vestige of the coffee shop that Twomey once ran in the same location).
This food, as you'd imagine and millions of Spaniards will tell you, goes splendidly with wine, and Twomey's list ranges from a rosé cava to reds and whites from most of Spain's wine-producing regions. Order the effervescent Txacoli Txomin Etxaniz, and the bartender will pour it theatrically from a great height to intensify the bubbles. Or drink your way through the sherries, from dry, refreshing fino or nuttier amontillado to the richer, fuller Pedro Ximénez—always a good idea when visiting a tapas bar. That, and not wearing anything you'll need to dry-clean.
Bar Carrera
Address: 175 Second Ave., nr. 11th St.; 212-375-1555
Hours: 6 p.m. to 2 a.m. daily.
Prices: $3.50 per tapa.
Ideal Meal: Chilled almond shot, piquillo pepper with tuna-and-red-pepper mousse, slow-poached egg with chorizo yogurt, chorizo bocadillo, Torta del Casar cheese with chestnut.