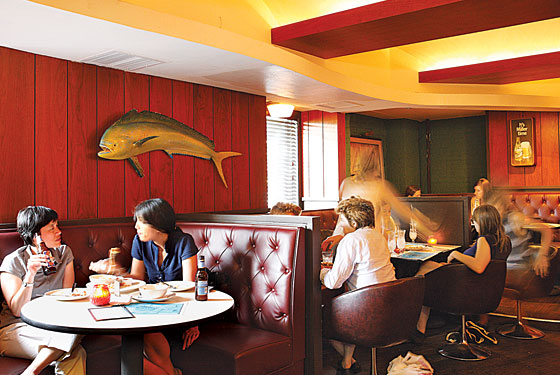 I f you're up to speed with the Underground Gourmet archives, or follow the burgeoning Buttermilk Brooklyn scene in all its biscuits-and-gravy glory, you may remember Stephen Tanner. The Georgia native and fried-chicken virtuoso co-founded the original Pies-N-Thighs and then sold his interest in the restaurant a few years back. Before that, he cooked at Diner, and post-P-N-T, at Egg, which, in the realm of Brooklyn gastronomy, makes him somewhat of a seminal figure in his adopted Williamsburg. In a manner akin to Kenny Shopsin, Tanner's a brilliantly intuitive cook; he's also, much like that eccentric elder statesman of trashy eclectic cuisine, a bit of a curmudgeon, one who would apparently rather chew on broken glass and sleep in a hollow log than talk to the food press.
When last we encountered the man—dressed, as is his custom, in a Led Zeppelin T-shirt and cutoff shorts, and sporting a bushy mustache that gave him the appearance of a particularly peevish Yosemite Sam—he was rather testily bemoaning the fried-chicken frenzy engulfing his neighborhood and anticipating his next gig whipping up no-frills bar food in the old Black Betty space. Asked to describe his impending menu, Tanner replied, with nary a hint of irony, "Like Applebee's, but better." And no fried chicken? "Maybe a thigh." Well, we're happy to report that Tanner has come through with the goods. At the two-month-old Commodore, Black Betty's quasi-nautical replacement, he can be seen moodily shuffling about and cooking what might be the best cheap bar food in town, chicken thighs and all.
The Commodore's current clientele seems drawn in, in large part, by the kitschy cocktails (the house drink is a piña colada with an amaretto float) and cheap beer, the weekend D.J. (recently, the funk-and-soul stylings of the excellent Mr. Fine Wine), and the festive vibe. There are video games and one of those faceless cardboard cutouts depicting King Kong and Fay Wray, popular among carnivalgoers. But for the U.G., the food's the thing, no matter how many hoops it's necessary to jump through to get at it, including elbowing your way to the bar to place an order, starting a tab or settling up at once, and claiming some precious real estate. (The four back-room booths—where the U.G. joined a bunch of burger aficionados, a Hells Angel or two, and a pair of grown men binge-drinking fruity pink cocktails one recent night—are your best bet.)
When that chicken arrives, it's a looker: three substantial thighs to a plate, with hot sauce, tender mini-biscuits, and honey butter. It's hot and juicy, with a craggy crust that crackles resoundingly when you bite into it, the way a good croissant does. In short, it's among the best fried chicken in town. But there is much more to Tanner's brief menu. There is, for instance, the "adult cheese" sandwich, a pimento-and-poblano assemblage of such perfect creamy, crispy texture and rich, tangy flavor that it might be too fine to waste on the neighborhood's booming toddler population. Other elevated pub grub includes a vinegary pulled-pork sandwich, a towering, satisfying, and well-dressed burger, first-rate fries, and two soupy stews: a fragrant green-chile posole with chicken, and the "black-eyed pea surprise!," in which a biscuit or hunk of cornbread is drowned in legumes.
Tanner must have the vegetarian-locavore constituency in mind with plates like springy sautéed rainbow chard and snap peas with hard-cooked egg. A terrific "Saltie" potato salad mingled with pimentón-spiked mayo and strewn with parsley is not particularly salty but a tribute to his friends at the sandwich shop down the block. Even the chicken tacos—swaddled in double soft-corn tortillas and garnished with onion and cilantro—make a lasting impression.
Down-home and delicious, melding southern, Mexican, and (though he might shudder at the term) New Brooklyn Cuisine, Tanner's cooking raises the bar-food bar. Take that, Applebee's.

The Commodore
Address:366 Metropolitan Ave., at Havemeyer St., Williamsburg;718-218-7632
Hours: The kitchen is open Sunday through Thursday 4 p.m. to midnight, Friday and Saturday until 1 a.m. Prices: $3 to $9.
Note: The garden is a work-in-progress, and the music gets loud. For the most comfortable food-focused experience, avoid weekend nights and go early.
Ideal Meal: Fried chicken with biscuits and "Saltie" potato salad or "adult cheese" sandwich and green-chile hominy.
Scratchpad: Sticky-fingered, deep-fried, unabashedly undainty bar food makes this would-be dive bar a four-star dining destination.