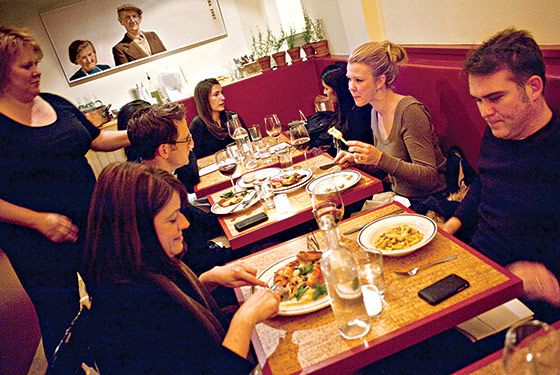 There are those among the Underground Gourmet's acquaintance, believe it or not, who say Basta! to Italian, the cuisine that's officially swallowed New York. "If I never see another bowl of fusilli, it will be all right with me," said one of these cynics the other day, with a weary look in his eye.
Boundary-pushing chefs trash it, too, as craven comfort food, an attempt to appeal to the lowest common crowd-pleasing denominator, and certain flag-waving expats call our homegrown version inauthentic at best, inedible at worst. In some cases, they might be right.
But not, decidedly, in all. Take, for instance, Porsena, the terrific, refreshingly grown-up (reservation-accepting, conversation- friendly) East Village spot recently opened by Sara Jenkins, a seasoned chef who's bopped around New York kitchens and found fame at Porchetta, a mecca of roast-pork sandwiches. The lesson in success-through-specialization apparently wasn't lost on her, as Jenkins has christened Porsena a "pasta restaurant," despite the undeniable presence of appetizers and entrées.
It's a clever idea, especially on a frigid winter night. Nothing against fish and salad, but there is no case of seasonal affective disorder so severe it can't be cured by a serving of Jenkins's penette with sweetly caramelized cauliflower, briny with olives and capers and strewn with crunchy bread crumbs. Ditto an Italianate macaroni and "many cheeses" with a mellow blue-cheese funk, and a bright and lively spaghetti con le vongole that contains enough mollusks to outfit a New England clambake.
The pasta al pomodoro is a minimalist pleasure, cooked firm but tender and just slicked, not slopped, with sauce. The lasagne al forno makes a dramatic entrance, the oven-baked crust puffing out of the terra-cotta vessel like a La Grenouille soufflé, eventually collapsing into featherlight layers of fresh pasta enriched with besciamella and ragù. The pièce de résistance, though, is a dried tubular pasta called anneloni, a fashion-forward shape that dares to wear its sauce-clinging ridges on the inside of the loop instead of on the outside. Imagine a fat, slightly lopsided, and inside-out rigatoni, and you get the idea. Jenkins tosses her anneloni with spicy crumbled lamb sausage, mustard greens, a little cream, and bread crumbs, and much of this toothsome mixture sticks to the inside of the ring better than it would if the ridges were on the outside—pasta innovation at its finest.
The only drawback with "pasta restaurant" as a marketing term is that it shifts the emphasis off the appetizers and entrées, which happen to be entirely deserving of your attention. There is genius in the crostini topped with pillowy melted mozzarella and a dusting of grated bottarga, and in the brash anchovy punch of the wilted-escarole salad. And though the combinations seem simple, there is great flavor and textural contrast in a bowl of tender poached octopus with chickpeas and celery, and an unexpected assemblage of salami, anchovies, and butter to spread on grilled bread.
When strategizing a Porsena carb-fest, you should keep in mind that the pedigreed chicken is deftly roasted, the parchment-wrapped hake tender and garnished with a zesty salsa verde, and the soul-soothing beef shin braised in red wine and sunk into a pool of buttery polenta. Share one, or come back hungrier next time.
Jenkins's cooking is rustic but refined, and you could say the same of the streamlined but comfortable-enough setting, a long, narrow space divided into a bar with counter-height tables and a (slightly cramped) banquette-lined dining room, with a farm table anchored next to the open kitchen. The service is unobtrusive but expert, and if the floor staff can't delineate the finer points of the Grechetto or the Vernaccia Nera to your oenophilic satisfaction, they're more than happy to pour you a taste. So what, exactly, is this newfangled creature, the pasta restaurant? In the happy case of Porsena, at least, it's a dependable neighborhood canteen with a talented kitchen, a smart staff, and a menu that gives you plenty of enticing options, pasta or no.

Porsena
Address: 21 E. 7th St., nr. Third Ave.; 212-228-4923
Hours: Tuesday through Sunday 5:30 to 11 p.m.
Prices: Appetizers, $9 to $12; pastas and entrées, $12 to $26.
Ideal Meal: Mozzarella-and-bottarga crostini, anneloni con salsiccia e rape, escarole salad, panna cotta.
Note: The fourtop in the window and the farmhouse kitchen table might be the best, roomiest seats in the house. Scratchpad: Everything you could ask for in a trattoria: a convivial atmosphere, great service, and simple, delicious food.