When Stella McCartney launched her own line a year ago, let's face it, the fashion world didn't all wish her well. But just because a girl has a famous dad and friends named Gwyneth and Madonna doesn't mean she lacks the talent — and the drive — to become a design powerhouse.

BY LISA ARMSTRONG
PHOTOGRAPHED BY DONALD CHRISTIE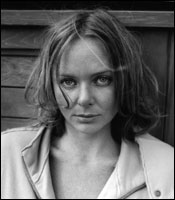 Looking ahead: Now backed by the Gucci Group, Stella McCartney has her sights firmly set on her future plans.

Maybe it's her marked youthfulness — she's 30, but with her round, candid face and puppy eyes, she doesn't look it — or perhaps it's her ebullient touchy-feeliness, but Stella McCartney is awfully approachable — for a fashion designer. During our tea in the ultra-discreet bar of Brown's, a very English hotel off Piccadilly in London, a procession of people wander right up to the table to tell her how much they like her work. (Would they dare do this to Karl Lagerfeld? Would they even recognize Nicolas Ghesquière?) At one point, McCartney actually blushes. Only when one of the fans tells her she recently saw some portraits by her late mother, Linda McCartney, does she relax. "This honestly never happens," she grimaces after one interlude, delving into her bag for a photo of the current love of her life, Blanket, her Appaloosa. The dog-eared snapshot is a diversionary tactic, but it's also instructive — and not just because Appaloosas, an old Native American strain, are the horses her mother bred. McCartney may be an international designer, but she is also a country girl: Even when she worked in Paris re-creating Chloé — and before that, when she was studying fashion at Central Saint Martins — she caught the train back every weekend to her parents' farm in Sussex, South England.

The past few years of Stella McCartney's life have been a breathtaking ride. Appointed designer of Chloé at the tender age of 25, she resurrected the line in less than four years. Her cult must-haves, like air-brushed T-shirts and rhinestone-studded sunglasses (as well as some impressive tailoring), made the hippie if not hip label, which had been static under Lagerfeld, credible for a whole new generation. Then a year ago, with the help of the Gucci Group, she left to start her own line and embarked on what turned out to be a roller-coaster year. Her first collection, for spring 2002, was panned across the media with malevolent gusto. "I was really freaked out," she says, taking a slow sip of water. "People think I'm strong, but actually I wanted to crawl away. I thought, I'm going to live in the country with my horse and I'll get a nine-to-five — I don't need this." But she didn't. Instead, she pulled herself together to produce her (much-better-received) fall line, work on a perfume, and plan her first flagship store, which opens this fall in the meatpacking district. If McCartney had been your average rich-daughter-of-someone-famous looking for a way to capitalize on her name, there are easier jobs than being an International Fashion Designer.

And there you have the rub. Until Gucci offered to back her, she says, "everything I'd ever accomplished, including getting into Saint Martins" — the London fashion college also attended by John Galliano, Hussein Chalayan, and Alexander McQueen — "I thought was because of my name."

It certainly hasn't hurt. At Saint Martins, she was the sole student in the school's history to coax Naomi Campbell and Kate Moss into modeling for her graduation show. She hangs with a celebrity crowd; indeed, the only other designer who comes close in terms of registering the same kind of personal recognition with the non-fashionista public is Donatella Versace — and she's had to work for years at cultivating her high-profile "rock 'n' royalty" friendships.

McCartney is too savvy not to realize how valuable her fame is when it comes to building a fashion label from scratch, but she genuinely longs to be judged on her own merits. Part of it is the way she was brought up; her parents insisted on a surreal normality for their children. "I have been struggling furiously all my life to be independent," she says. "I don't come from a family where if you borrow £500, you can just forget about paying it back. In my family, it's like, 'Excuse me, you've got £500 of mine.' That can be a way of people controlling you, and I don't like that feeling." Her parents' decision to send her to the local public school taught her that name-dropping wasn't endearing. When Stevie Wonder popped round for dinner, McCartney's classmates didn't hear about it. Consequently, she is almost weirdly normal — which only seems to grate more with those who see it as disingenuous. McCartney knows this but is at a loss as to how to counteract it.

"I know if I say I hardly ever bought Vogue when I was a teenager because it was like £12 a year, they're all going to say, 'Oh, shut up,' but it's true." From an early age, she was aware of people "clocking" her parents. "I always spotted the fans before they did. I would be like, 'Okay, in two minutes that person is going to come over and say something.' " But she says she had no idea of their wealth: "For years, the six of us lived in a two-bedroom house." She may be overcompensating (she also says that she hated missing the school bus because it meant she got taken to school in a Mercedes), but you have to like her for it. She didn't finally compute how famous her parents were until she went on tour with them in Wings. "I was in this stadium with 200,000 people looking at my mum and dad. That was mind-bending."

So here she is on a Friday evening — she has a business meeting after this interview — explaining why she's so exhausted. She's juggling three separate architects for, respectively, her new house in Worcestershire, her new headquarters in a dilapidated church in Notting Hill, and the new store. "I literally have meetings at eight o'clock in the morning, and I finish at nine o'clock at night," she says. "It sounds pathetic, but I don't even have time to go shopping."

Other than looking a little tired around the edges, McCartney comes across as warm, funny, and stylish (today in white silk bloomers of her own design). Her face, freckled and pretty, with those preternaturally large McCartney eyes, is almost devoid of makeup, her dark gold hair twirled up in a makeshift twist. "I can honestly say this industry hasn't made me neurotic about my looks, except maybe my weight," she says. "I hope my clothes kind of reflect that. They're meant to make you feel good, not give you more hang-ups."

Though the constant gaze of the press — the Greek chorus in her life — would be enough to give anyone a few. "I've known Stella for years," says Gwyneth Paltrow, a friend, whose family knows the Eastmans, Linda McCartney's family. "She's very smart and grounded — and private."

Her reserve is another facet of the McCartney enigma. It doesn't require a degree in Freud to trace this to the hard time her mother was given by the media in the early years of her marriage to Paul McCartney. "My mother was so cool in the way she dressed," she says at one point, tearing up at the memory. "She wore whatever she liked — and the press gave her shit for it."

She groans at the mention of another tabloid obsession, her alleged discomfort with her new stepmother, Heather Mills. "It's immoral that people make money out of writing crap," she says, "but I try not to obsess about it. I don't want to spend my life being angry." Recently, the British tabloids have speculated that McCartney's a lesbian ("I think that's hilarious"); that she's engaged to her boyfriend, publisher Alasdhair Willis; and that she's pregnant (on the latter two points she refuses to comment).