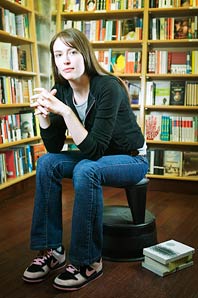 What's different about your bookstore?
We're not just arbitrarily peddling whatever the new stuff is. We're interested in reading as a potentially special experience. Writers sit in our wireless tea shop for six hours at a time. None famous.
What's influenced you lately?
Mammals, by Pierre Mérot: Its narrator is this alcoholic, miserable, insightful Frenchman. Reading Like a Writer, by Francine Prose. Ask the Dust, a novel by John Fante: a strange, disturbing story told by a horrific narrator. I finally got around to The Year of Magical Thinking, by Joan Didion. I totally got sucked into it and felt like a zombie when I was finished. In the self-help department, Against Depression, by Peter D. Kramer, is next.
Are you always this dark?
I read in groups. Now it's dark, depressing books. The next is family dysfunction.
Have you ever sold a book to someone you've read?
No. But I'd love to sell a book to Philip Roth. That would be so cool. David Bowie used to come in and get these really smart, giant history books.
Aren't book clubs kind of lame?
No, they're great. We have one; read The Invention of Morel, by Adolfo Bioy Casares, and just show up on October 16, at 6:30.
Ever have sex in the stacks?
Not here, but there may have been an incident in a library once.