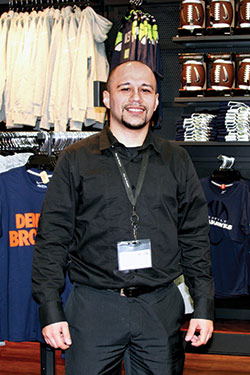 Are you preparing for the big game?
Yes. We had to hire fifteen additional staffers. As soon as the championship games ended, we were moving the New England and San Francisco gear to the basement and filling the first floor with Broncos and Seahawks stuff, plus thermals and things to wear to the game. We're also prepared for the night of—when the Giants won back in 2011, we ended up staying open until 2 a.m.
How did you gauge your inventory orders?
We researched the number of hotel rooms booked in the city, how many people are estimated to visit the Super Bowl Boulevard in Times Square. Whichever team loses, we'll donate all that gear to charity.
What about overzealous fans?
We're taught not to engage with them or do anything that might bring out their anger. I'm a lifelong Giants fan, so I know how those arguments can go. But New Yorkers are no-nonsense shoppers—the normally don't have time to get into it.