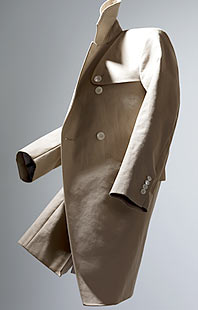 The Best Bet
There are dozens of indistinguishable classic trench coats—and then there is Thom Browne's version. The British designer's knee-length, double-breasted trench takes six weeks to make by hand from waterproof cotton, and its impeccable tailoring is obvious even at a cursory glance—the slim cut, the double vents set on the side seams, the mother-of-pearl buttons resting higher than usual, the striped oxford-cloth lining, and the white cotton piqué undercollar. It's a work of art, down to its limited edition: Fewer than twenty are for sale in the United States ($3,500 at Bergdorf Goodman Men's Store, 745 Fifth Ave., at 58th St.; 212-753-7300).
Get the Stacking Effect With One Ring
Lori Leven, owner of the jewelry store and tattoo-and-piercing parlor New York Adorned, is also a talented designer; she makes these wraparound bamboo-motif rings (in yellow, rose, and white gold, from $1,100 to $1,800; 47 Second Ave., nr. 3rd St.; 212-473-0007).
A Modernist Bassinet
Minimalist parents don't want a bassinet draped with so much fabric it resembles a ball gown. This solid-oak Finnish design from the Netto Collection has a sturdy but transparent canvas and is light enough to easily tote around an apartment ($590 at Yoya, 636 Hudson St., at Horatio St.; 646-336-6844).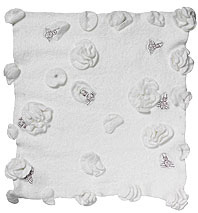 And the Perfect Throw to Match
Supersoft, individually felted, infant-size, and hand-embroidered with images from actual children's drawings, this mini-blanket is the antidote to brightly colored farm animals ($45 at Takashimaya, 693 Fifth Ave., nr. 54th St.; 212-350-0100).
A Dresser for Modern Hollywood
Ralph Lauren Furniture's new spring collection, which is just about to hit floors, includes this polished-walnut-and-buttery-leather creation, reminiscent of the forties glamour era ($7,158 at Ralph Lauren, 867 Madison Ave., at 72nd St.; 212-606-2100).
Fight Carpal Tunnel With Your Hairbrush
The hourglass design of the Marilyn—its bristles shorten in the middle—keeps hair more firmly in place while blow-drying. That means you can use a single brushing motion, rather than constantly twirling (from $25 at Zitomer Pharmacy, 969 Madison Ave., nr. 75th St.; 212-737-5560).