The Best Bet
Does Thomas Keller do casual? See for yourself next week, when he opens the second Bouchon Bakery (the original is in Las Vegas), which means that mere mortals can now afford to tuck into something other than a Jamba Juice while traipsing through the Time Warner Center. One floor beneath Per Se, the 60-seat café occupies some surprisingly exposed real estate (in the hallway outside the Aveda boutique), which is sure to become a foodie scrum. Boulangerie-style fare, like roast-pork-tonnato tartine and three-bean soup with rosemary pistou, are also available for takeout at the nearby retail counter, where Per Se pastry chef Sébastien Rouxel presides over the production of everything from croissants to "Nutter Butters" (10 Columbus Circle, at 59th St., third fl.; 212-823-9366; opens March 13).—Rob Patronite
One-Stop Window Washing
Leifheit's Window Wonder is an all-in-one sprayer, wiper, and squeegee—the removable pad will last for at least 100 machine washings ($29.95 at Bed, Bath & Beyond, 410 E. 61st St., at First Ave.; 646-215-4702).
Carpets That Look Like Corduroy and Feel Like Silk
Carini Lang's hand-knotted Nepalese carpets are made of Chinese silk, feel incredible on bare feet, and are available in dozens of colors for $135 per square foot (Carini Lang, 335 Greenwich St., nr. Duane St.; 646-613-0497).
Coveted French Jewelry, Now Available Here
Fans of Dinh Van no longer have to get on a plane. Yoyamart currently stocks several styles, including this white-gold-and-diamond handcuff bracelet ($1,375), and will fulfill special orders within two days (15 Gansevoort St., at Hudson St.; 212-242-5511).
Is It a Lamp or a Vase?
Rene Barba's glass hurricanes are beautiful sculptural pieces, with room for a single stem or a single tea light ($29 to $48 at the Conran Shop, 407 E. 59th St., at First Ave.; 212-755-9079).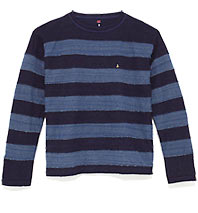 A Hoodie Alternative
R by 45rpm's "Surf Border Stripe" men's long-sleeved tee is made of indigo-dyed thick jersey fabric that will fade over time and has purposeful imperfections, just like your favorite jeans ($333 at R by 45rpm, 169 Mercer St., nr. Houston St.; 917-237-0045).