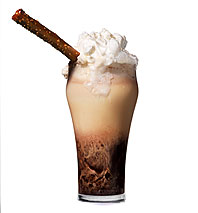 The Best Bet
What Dale Degroff is to the cocktail, what Katz's is to pastrami, that's what Craig Bero is to the egg cream—a man so obsessed with the mysterious art of mixing milk and seltzer with chocolate syrup that he's built an egg-cream museum of sorts in the back of his Tribeca luncheonette, the Soda Shop. While you peruse the vintage egg-cream memorabilia, you can gulp down any of four exquisite versions of the old-time elixir, from a classic made with Fox's U-Bet syrup ($2) to a deluxe model of Bero's own invention, made with a fancy Belgian chocolate ($2.75). A good syrup, however, is only the half of it. What makes a great egg cream, according to Bero, is expert technique, ice-cold ingredients, and hard-to-find equipment like thirties-era soda-fountain heads fitted with special leather washers custom-made by an upstate octogenarian. The whole Rube Goldbergian process "is like running a '55 Chevy," he says (125 Chambers St., nr. W. Broadway; 212-571-1100). -R.P.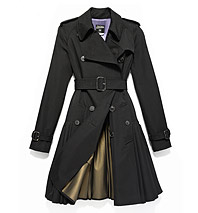 A Raincoat That Flirts for You
Jean Paul Gaultier's version of the classic trench includes a vampy super-cinched waist and swinging kick pleats ($3,160 at Bergdorf Goodman, 754 Fifth Ave., at 59th St.; 212-753-7300). -R.S.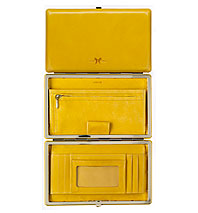 A Packhorse With Thoroughbred Lines
This cleverly engineered clutch carries cash, change, a lipstick, a fistful of credit cards, and a few months' worth of receipts, while maintaining its slim shape ($145 at Castor & Pollux, 238 W. 10th St., nr. Hudson St.; 212-645-6572). -R.S.
The Vacuum's Elegant Counterpart
This goat-hair brush with a slim shape and long handle makes gathering dust bunnies and under-fridge crumbs effortless ($60 at William-Wayne & Co., 850 Lexington Ave., nr. 64th St.; 212-288-9243). -R.S.
Smart Design for Maximum Visibility
Originally popular with mod-era architects, the Azimut's rotating spotlight gives you 360-degree brightness, so that everything, from your desk to your bed, is illuminated ($235 at the Terence Conran Shop, 407 E. 59th St., nr. First Ave.; 212-755-9079). -R.S.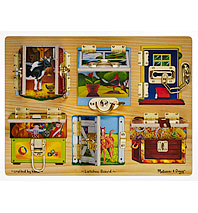 For Junior Lock-Poppers
Practicing on Melissa & Doug's Latches Board perfects kids' concentration, dexterity, and cognitive skills, so childproof your home first ($25 at Peanut Butter & Jane, 617 Hudson St., nr. Jane St.; 212-620-7952). -R.S.