How to Buy An Area Rug
Three tips from Flatiron-based interior designer Jon Call.
1. "A larger-scale rug makes the room feel bigger. Measure out a size that can encompass the couch, the coffee table—all your furniture."
2. "If you can't find that size off the rack, you can get a custom rug for as little as $1,000 by going to a place that sells wall-to-wall carpeting—Aronson's on 17th Street has great variety—and asking them to bind the edges."
3. "Pick a rug with three colors in it: Two limits a room's design scheme too much; four gets into crazy town."




Moving In
Louisa and Pookie Burch (dad is Chris; ex-stepmom, Tory) have a new well-priced clothing line, Trademark, plus a store coming this spring (95 Grand St.; trade-mark.com).
PB: We'd been searching for a retail space for a year when we found this amazing old photo studio that hadn't been renovated since the 1970s. The landlord said Robert Mapplethorpe shot there.
LB: Part of why we fell in love with the space is that it has three levels. Windows run up the entire back-left side.
PB: But we learned that the more levels you have, the more work it is. I think I'll just go in the night before we open and divide up all the product myself.
LB: Pookie is the creative one. I'm the one handling the details of the stairway construction and all the logistics. But things like our gold-foil shopping bags—that was definitely her.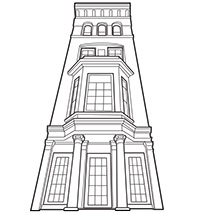 First Look
Sugar Hill Market, a debut flea helmed by neighborhood blog Harlem Bespoke, pre-launches with a one-day event March 30. A dozen or so Harlem-based vendors—think vintage vaudeville posters curated by John Reddick and handcrafted dresses by Ingwa Melero—will set up in the townhouse space of Il Caffe Latte (458 W. 145th St.), before the market expands to a yet-to-be-announced outdoor venue this summer.



4X4
Umbrella Stands
Because even subway-shop umbrellas need a home.
Modest/Classic: Blue Reactive ceramic vessel, $30 at Pier 1 Imports, 71 Fifth Ave.
Splurgy/Classic: Bitossi Rimini Blu umbrella stand 192, $330 at switchmodern.com.
Modest/Modern: Herman Miller Poppins umbrella stand, $149 at smartfurniture.com.
Splurgy/Modern: Zontic umbrella stand, $495 at Property, 14 Wooster St.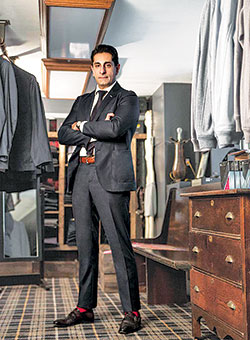 Ask a Shop Clerk
Celebrity sock purveyor Vivek Nagrani just launched a clothing line and an appointment-only studio, VK Nagrani (16 E. 77th St.; 212-684-4333).
What can you learn about a man from his socks?
When a man appreciates the details, he'll treat his loved ones with that same care. One pair of socks is adapted from Magnum, P.I.'s shirt, and another from a Hawaiian shirt of Frank Sinatra's. My designs are reserved for that guy—I try to keep this place hidden, but if you really understand luxury, you'll find it.






New Niche
An influx of vintage stores specializing in bygone Birkin bags, '90s troll earrings, and other hyperspecific wares.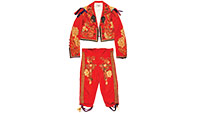 New York City Opera costumes, like the Matador from La Traviata, $175 for three-day rental, $800 for purchase at TOCA, 14-05 31st Dr., nr. 14th St., Astoria; 718-204-8622.





Troll earrings, $12 at Friends Vintage, 56 Bogart St., at Harrison Pl., Bushwick; 718-386-6279.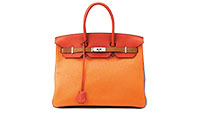 Birkin bags, from $9,000 at LXR & Co., 112 Wooster St., nr. Prince St.; 917-580-0870.





'80s and '90s Mets and Yankees jerseys, from $60 at Mr. Throwback, 428 E. 9th St., nr. Ave. A; 646-410-0310.





Mod tableware, from $20 at You & Yours, opening May 5 at 649 Morgan Ave., nr. Nassau Ave., #2C, Greenpoint; available now by appointment only, 917-482-4071.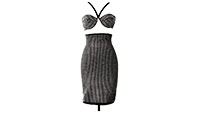 '90s Alaïa dresses, from $650 at Chess and the Sphinx, 252 Knickerbocker Ave., nr. Starr St., Bushwick; 718-366-2195.