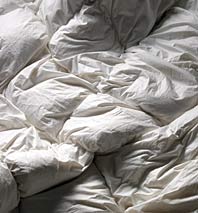 The Best Bet
Achoo! If you're a sniffling mess with a temperature over 103 degrees, you've probably got the flu and you're contagious, so stay at home. (To avoid squandering sick days on a bona fide illness, get a flu shot—it needs two weeks to take effect, and peak flu season is almost upon us.) Your doctor can prescribe Tamiflu, which should zap the virus within the first 48 hours of symptoms. A big bowl of chicken soup also helps. But whether you're sweating or shivering, it's important to stay warm. Scandia Down's Provence all-season comforter is covered with a 400-thread-count cotton-blend fabric, and filled with warming large-cluster Hungarian goose down. It may not heal you, but it will certainly soothe ($475 to $725 at Nancy Koltes at Home, 31 Spring St., nr. Mott; 212-219-2271).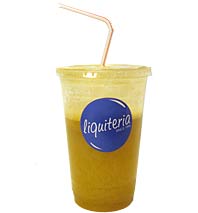 The Downtown Elixir
Order Liquiteria's Killer drink—a mixture including ginger, vitamin C, fruit juices, and cayenne—and add the 75-cent Cold and Sinus Blaster ($5.50 for eighteen ounces; 170 Second Ave., at 11th St.; 212-358-0300).
If Mom Isn't Cooking
Get a quart of chicken soup from Brooklyn Diner ($15.95, 212 W. 57th St., nr. Seventh Ave.; 212-977-2280; bowl, $8.76 at Fish's Eddy, 889 Broadway, at 19th St.; 212-420-9092).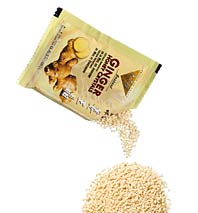 Tired of Tea?
Try Ginger Honey Crystals instead. They dissolve in hot or cold water, and the ginger will soothe an upset stomach ($1.95 for a box of ten packets at Pearl River Mart, 447 Broadway, nr. Grand St.; 212-431-4770).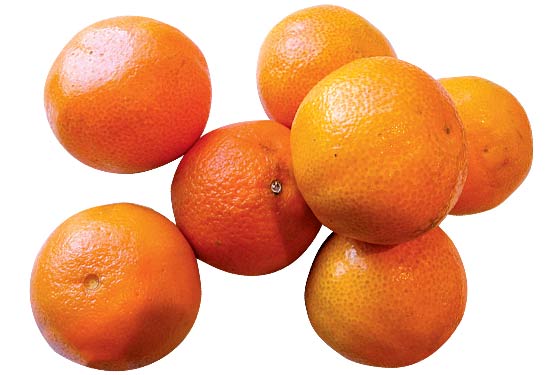 Eat Clementines
They're easy to peel, packed with vitamin C, and make a nice centerpiece ($5.98 for a box at Whole Foods, 250 Seventh Ave., at 24th St.; 212-924-5969).
If you are…

…Chafing
Boroleum ointment smells medicinal but relieves irritation and redness ($4.59 at C.O. Bigelow, 414 Sixth Ave., nr. 9th St.; 212-533-2700).
…Drying Out
Quiet, and subtle in design, this Air-O-Swiss humidifer has a timer and water-level monitor ($349.99 at Bed Bath & Beyond, 620 Sixth Ave., nr. 18th St.; 212-255-3550).
…Aching
Tiger Balm's camphor temporarily numbs nerves; its menthol helps stuffy noses ($7.19 at Duane Reade, 49 E. 52nd St., nr. Madison Ave.; 212-888-2323).
…Anti-Prescription
Encyclopedia of Homeopathy, by Dr. Andrew Lockie, has over 300 pages of home remedies for common ailments ($40 at Borders Books & Music, 576 Second Ave., nr. 32nd St.; 212-685-3938).
…In Need of a Soak
Dump a bottle of Kneipp's Herbal Bath oil into the tub for its head-clearing eucalyptus scent ($19 at Zitomer, 969 Madison Ave., nr. 76th St.; 212-737-5560).
Recuperate Elsewhere
The Four Seasons hotel provides humidifiers, heating pads, and tea service for sick guests (from $915 a night; 57 E. 57th St., nr. Madison Ave.; 212-758-5700).
For the Feverish Brow
A cool gel eye mask ($8.50 at The Body Shop, 2159 Broadway, nr. 76th St.; 212-721-2947).
Be Kind to Your Nose
Puff's Ultra ($1.89 at CVS, 272 Eighth Ave., nr. 24th St.; 212-255-2592) are gentle and strong; camouflage the box with Jonathan Adler's cover ($35; 47 Greene St., nr. Broome St.; 212-941-8950).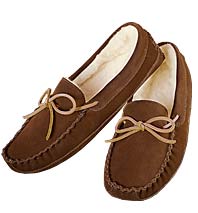 Slip These On
Eddie Bauer's wool-lined moccasins are suede-soled—if need be, you can wear them in bed ($49.50; 1172 Third Ave., nr. 68th St.; 212-737-0002).
Something to Squeeze
Manuella stuffed rabbit and elephant ($38 each at Giggle, 1033 Lexington Ave., at 74th St.; 212-249-4249).