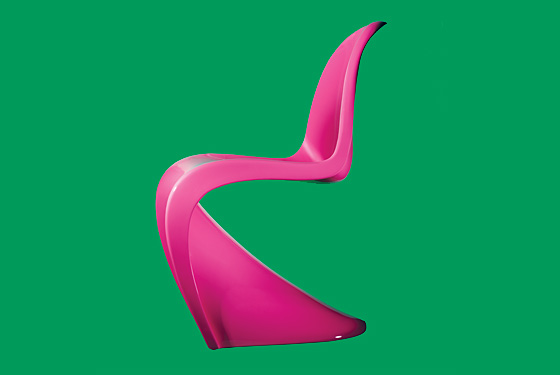 The Best Bet
Neon colors, in all their blaring glory, are back—in the living room, in the closet, on Serena Williams at the Australian Open. Like a strong opinion, acid green and its eye-popping kin might be hard to take at first, but ultimately, you're won over. This hot-pink version of Verner Panton's famous sinuous chair is lightweight, stackable, affordable, and comfortable and provides an easy way to integrate a little neon into your daily life (S chair, $75 at White Furniture, 149 Essex St., nr. Stanton St.; 212-505-5177). For more on turning up the brights, flip the page.
Dress the Table
The design is inspired by nineteenth-century Italian silver, but the material (plastic) and color are strictly modern (DeLuxe cutlery, $120 for sixteen-piece set at Moss, 146 Greene St., nr. Prince St.; 212-204-7100).
Reduce, Reuse…
A plastic water bottle becomes a pitcher with a Twist & Spout attachment ($5 at Mxyplyzyk, 125 Greenwich Ave., nr. 13th St.; 212-989-4300).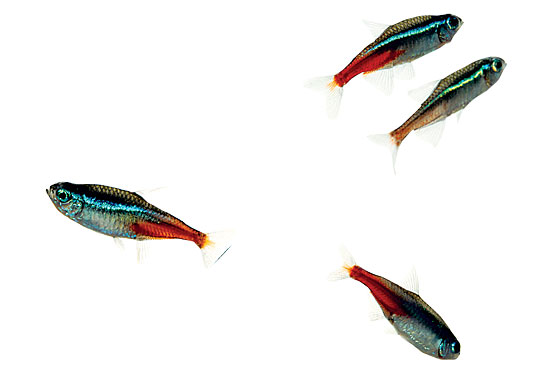 A Studio-Apartment Pet
Neon tetras live three to four years, with proper care (99 cents each at New World Aquarium, 204 E. 38th St., nr. Third Ave.; 646-865-9604).
Why Does It Have to Be White?
Toilet paper can be decorative, too (Renova paper, $12.99 for six rolls at Ricky's, 590 Broadway, nr. Houston St.; 212-226-5552).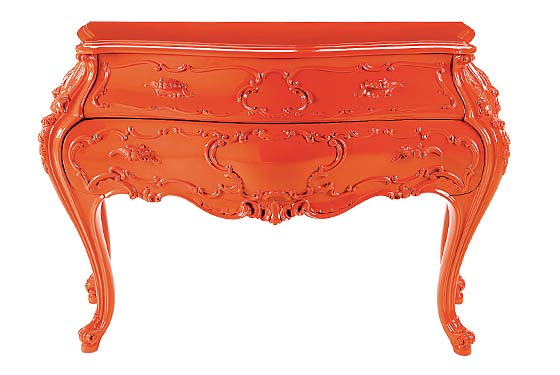 The Unsubtle Dresser
Made from beech and lacquered in a range of colors including vivid orange (Poldo Como chest of drawers, $4,850 at the Conran Shop, 407 E. 59th St., nr. First Ave.; 212-755-9079).
What to Wear
Pink Is the New Black
Rescue Beauty layers clear pink over opaque white for a surprisingly bright manicure (Signature manicure, $23; 34 Gansevoort St., nr. Hudson St.; 212-206-6409).
iCandy
The tiniest iPod, which holds up to 240 songs, is now available in four bright hues (Shuffle, $79 at Apple Store, 767 Fifth Ave., nr. 59th St.; 212-336-1440).
Retro Cuffs
Stack these bangles like you mean it (Eye Candy bangles, $18 to $24 each at Eye Candy, 329 Lafayette St., nr. Bleecker St.; 212-343-4275).
Your Opponents Might Object
But it worked for Serena (Nike Serena Disruptive dress, $100; available for order at Niketown, 6 E. 57th St., nr. Fifth Ave.; 212-891-6453).
Bright Eyes
Just a couple add zip to your lash line (Colored Flare eyelashes, $15 at Shu Uemura, 121 Greene St., nr. Prince St.; 212-979-5500).
Wall Hangings
An Aitken at Home
His MoMA project ends this week; here's a Doug Aitken for the house. (Don't Think Twice II, price upon request at 303 Gallery, 525 W. 22nd St., nr. Tenth Ave., through March 3; 212-255-1121).
Not for Dorm Rooms
Rent a premade neon sign or customize your own (rentals from $175 and custom signs from $350 at Let There Be Neon, 38 White St., nr. Church St.; 212-226-4883).