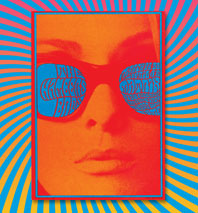 Whether you lived through the sixties or not, "Summer of Love: Art of the Psychedelic Era" at the Whitney Museum of American Art will leave you feeling groovy. Starting this Thursday, the museum's galleries will be buzzing with album covers, 'zines, paintings, photographs, and posters like this retina-searing number by Victor Moscoso, a pioneer of psychedelic art, promoting a Chambers Brothers concert at San Francisco's Matrix Club in 1967. You can bring home the colorful exhibition catalogue ($35), but if you find yourself jonesing for far-out designs and paraphernalia of your own, click ahead.
For a Small Hint
The Swirly "nut" ring, demure in size, is handmade in France of Limoges porcelain and 24-karat gold ($145 at Bernardaud, 499 Park Ave., nr. 59th St.; 212-371-4300).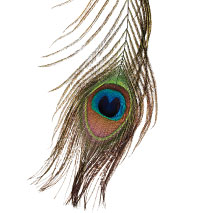 Eccentric but Nonperishable
Skip deli flowers for a bouquet of peacock feathers ($25 for 100 at American Plume Showroom, 247 W. 37th St., nr. Eighth Ave., sixteenth fl.; 212-921-2828).
A Statement Tapestry
Fashion designer Paul Smith's new textile design sends good vibes with hand-stitched needlepoint ($1,295 at the Rug Company, 88 Wooster St., nr. Spring St.; 212-274-0444).
For a Far-Out Living Room
Florence Broadhurst, known for her kaleidoscopic wallpapers, designed the metallic Solar paper ($338 per roll at John Roselli Showroom through Design Professionals, 979 Third Ave., nr. 58th St.; 212-759-6894).
Trippy Walls
Verner Panton, the Danish design maverick of the sixties and seventies, was the inspiration for these molded mirror panels ($39.99 at Marchand de Legumes, 252 Elizabeth St., nr. Houston St.; 212-965-1954).
ARTS AND CRAFTS
A Pen Mighty Enough
Document your political thinking with a one-of-a-kind resin rollerball pen from the French company Recife ($100 at Cursive at ABC Carpet & Home, 888 Broadway, nr. 19th St.; 646-602-3806).
Politics on Your Sleeve
Produced in the Masai tradition. A portion of the proceeds from this beaded bracelet go back to its tribal workshop in Africa ($50 at Ochre, 462 Broome St., nr. Greene St.; 212-414-4332).
Insta-Pizzazz
Give an outfit boho punch with a silk tie-dye scarf ($48 at Beads of Paradise, 16 E. 17th St., nr. Fifth Ave.; 212-620-0642).
Mellow Out
Conversation Piece
Pucci patterns and the sixties are almost synonymous. The reissue Piume pattern on this pillow comes from the archives (small pillow, $260 at Pucci, 24 E. 64th St., nr. Madison Ave.; 212-752-4777).
Smoke Up
"Incense and peppermints, meaningless nouns," is how the Strawberry Alarm Clock song went (Pivoine Imperiale incense by Esteban, $16 at Seasons International, 115 Crosby St., nr. Prince St.; 212-226-0797).
Go Ahead, Inhale
Although licking them is half the fun (Bambú strawberry-flavor rolling papers, $1.50 at Lafayette Smoke Shop, 63 Spring St., nr. Lafayette St.; 212-226-3475).
Signature Sixties
Hippies used patchouli oil to mask the scent of cannabis. Etro's version is light and updated ($90 at Aedes de Venustas, 9 Christopher St., nr. Sixth Ave.; 212-206-8674).