Until now, the MoMA Store was the only U.S. source of Muji wares—those cheap, great notebooks, CD cases, cardboard speakers, desktop organizers, and other fetishistically hoarded objects from the cult Japanese design giant. But New York has never had a real Muji to call its own, a place to browse and touch and get hypnotized. Finally, in November, a 3,000-square-foot Muji store—neatly packed with 3,000 different designs, including couches, wall-mounted CD players, cleverly designed can openers, these New York City building blocks ($14), and other bewitching objects—opens in Soho (455 Broadway, nr. Grand St.). A Times Square location is on the horizon. If minimalism can have an embarrassment of riches, this is it. For more on Muji, click ahead.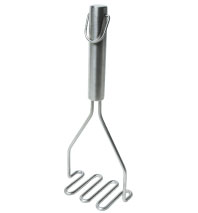 Stainless-steel potato masher, about $10.
Cotton swabs, about $5.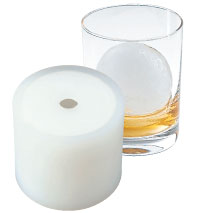 Silicone giant-ice-ball maker, about $10.
Double-wall glass tumbler, about $20.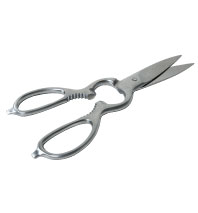 Stainless-steel shears, about $20.
Bottle opener, about $10.
Screwdriver set, about $10.
Stainless-steel kettle, about $40.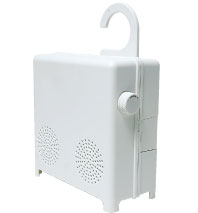 Hanging waterproof amplifier, about $40.
How Do They Do It?
Minimalist, recycled, inexpensive, irresistible. We interviewed the Japanese giant's design team (they won't identify themselves individually) via e-mail.
What does the word muji mean in Japanese?
No-brand, quality goods.
What's the philosophy?
The four key criteria of the concept:
• Reasonable price;
• Simple, moderate, and functional design;
• Basic, understated color;
• Essential parts for people to design their lifestyles at their discretion.
How much of your product is made from recycled materials?
We are now having products of reused yarn, which is including socks, T-shirts, toys, camisoles, and long-sleeve knits. Also there are many stationery products made by recycled paper.
Consistent with the concept are Muji's three product-development principles:
• Material selection. To keep costs down and quality high, Muji uses industrial materials, materials ignored by others, and materials which can be bought at low cost and in bulk.
• Simple, uniform packaging. To emphasize the natural qualities of the product as well as minimizing both cost and waste, Muji keeps packaging to a bare minimum.
• Efficient production processes. Muji constantly inspects and reinspects every stage of production.
Will you have the full product range here?
We will bring furniture, fabrics, apparel, housewares, cosmetic supplies, outdoor goods, and electronics. Only the food range is not going to be imported.
How long is the design and production cycle?
Muji releases a new collection twice a year for the household and apparel lines. Pumping up new items one after another is not a way of Muji.
There are Muji cafés in Japan; will you have one here?
We are not planning to handle this business here at this moment.
Who designed the Soho store?
Muji's interior-design team. Since there are quite a few people who already experienced Muji somewhere else, it's very challenging to present it not only as Muji, but also as fresh for everyone.
Can we come to the opening?
Sure, when we have opening thing, I would invite you.