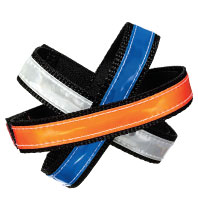 Simple But Crucial
Keep your trousers clear of bike-chain grease, and increase your visibility to traffic (reflective ankle band, $6.99 at Metro Bicycles, 75 Varick St., at Grand St.; 212-334-8000).
Go Anywhere Bag
Toss your work papers, lunch, and gym gear into a sturdy canvas Mason bag (by BillyKirk, $330 at Camouflage, 141 Eighth Ave., nr. 17th St.; 212-741-9118).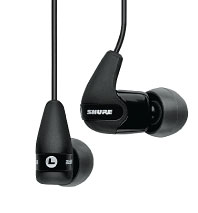 Tune Out the World
Plug these new headphones into your iPod, and put the city on mute (Shure SE210 Sound Isolating Earphones, $149.95 at the Apple Store, 103 Prince St., nr. Greene St.; 212-226-3126).
Sleep Later
Brew your coffee en route with an insulated French-press travel mug ($29.95 at Bodum, 415 W. 14th St., nr. Ninth Ave.; 212-367-9125).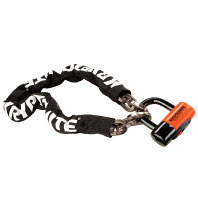 Peace of Mind
Keep your commuting vehicle safe with Kryptonite's new four-disc lock (39-inch-long chain and lock, $109.99 at Chelsea Bicycles, 130 W. 26th St., nr. Sixth Ave.; 646-230-7716).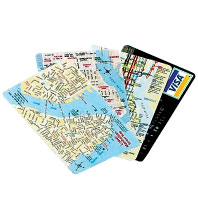 A Cheat Sheet
The Tiny General Manhattan map fits a comprehensive plan of the island on a wallet-size card ($1.95 at Tiny Living, 125 E. 7th St., nr. Ave. A; 212-228-2748).
Convertible for Your Feet
Click the heel up when it's party time, lock it in the flat position for the sidewalk (Camileon Heels, $305 at Eneslow, 470 Park Ave. S., at 32nd St.; 212-477-2300).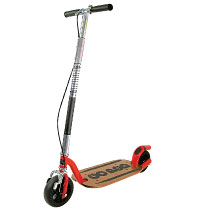 No Bike Lock Hassles
Get to work fast with Go-ped's folding, full-size KnowPed scooter, built with aircraft-grade steel ($149 at NYCEwheels, 1603 York Ave., nr. 85th St.; 212-737-3078).
In Case of Emergency
Call a Car
The subway's flooded, the bus is packed, and cab competition is rabid—call for backup (Dial 7 Car and Limousine Service, prices vary by pickup location and destination; 212-777-7777).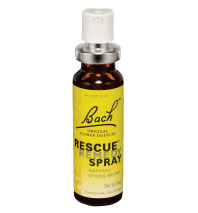 When the Train Stalls
Control an MTA-induced panic attack with a spritz of an anxiety-quelling aromatherapy spray (Bach Rescue Remedy spray, $17.99 at Westerly Natural Market, 911 Eighth Ave., at 54th St.; 212-586-5262).
Warn the Boss
Recharge your cell-phone battery in minutes, even if its power cord is at home (Energizer Energi to Go instant cell-phone charger, $19.99 at CVS Pharmacy, 272 Eighth Ave., nr. 24th St.; 212-255-2592).
Zap Germs
Reach for EO's organic-lemon hand sanitizer if subway poles give you the heebie-jeebies ($3.99 for two ounces at Whole Foods Market, 10 Columbus Circle, nr. 58th St.; 212-823-9600).