For Everyday
Freesia is subtle, comes in many colors, and is available on every corner. Re-cut stems under running water. If bought from a direct importer (which delis are not), they'll last longer. Dahlia, which has two underground outposts (30 Rockefeller Plaza and 43 Grand Central Terminal), imports directly from Holland; $7 to $10 a bunch.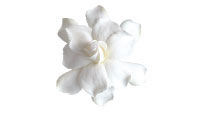 For the Bedroom
Gardenias are airmailed in airtight containers, mainly from California or France. One will scent a room. Put it on a shallow dish by your bed and don't let the water touch the petals; leave some leaves on. They'll start to brown about 36 hours after purchase ($10 and up at Floratech, 51 Beach St., at Hudson St.; 212-941-0021; $45–$60 for three at Takashimaya, 693 Fifth Ave., nr. 54th St.; 212-350-0111).
For the Bathroom
Paperwhites, a kind of narcissus, not only smell sweet but also appeal to the DIY minimalist: Put one bulb on a bed of rocks in a small bowl, add water, and in about two weeks, it will send up three or four stems with small white blooms. It's a good bathroom plant because of the scent and because it requires minimal light. Lasts about three weeks (one bulb, $8 at Village Farm Grocery, 146 Second Ave., nr. 10th St.; 212-475-7521).
For the Kitchen
The Chocolate Cosmos is a deep-brown button flower that smells like its name and is relatively rare. It's available through florists only between June and October. But put some in the kitchen so you can inhale that scent along with your coffee, or as a sensory dessert at night (50-stem arrangement, $225 at Belle Fleur, 134 Fifth Ave., nr. 18th St.; 212-254-8703).
For the Living Room
Big, showy hybrid lilies like Stargazers and Casablancas (the giant, Easter-y ones often seen in bud form at the deli) have a strong but not overwhelming scent. Display them in the largest space. Fill the vases a third of the way with water; otherwise, the stems will soak in too much and die out more quickly. Peel off some leaves, especially the three closest to the petals, to make sure enough nutrients rise up to the bud. Change the water every day and they'll last a week to ten days ($8 and up per stem at Floratech).
SEE ALSO:
• Floral Home Essentials