Japanese treats faithfully re-created in eraser form ($7 for six at Sunrise Mart, 494 Broome St., nr. W. Broadway; 212-219-0033).
The grips are fitted for tiny hands, and the scissors cut with or without the safety cover ($15 at Felissimo Design House, 10 W. 56th St., nr. Fifth Ave.; 212-956-4438; available Sept. 22).
The Optical Egg Mouse in yolk orange is far more appealing than standard gray ($50 at AC Gears, 69 E. 8th St., nr. Mercer St.; 212-260-2269).
Muji's color-lined notebooks fill up fast, so buy a stack. ($2.95 for five at Muji, 455 Broadway, nr. Grand St.; 212-334-2002).
For help with those plant-cell diagrams, you get 36 pencil colors and an attractive storage tube ($16.75 at Muji).
The glue's easy to apply; the bottle's just fun to look at (Arabic Yamato Liquid Glue, $3.15 at Kinokuniya, 1073 Sixth Ave., nr. W. 41st St.; 212-869-1700).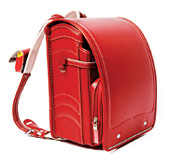 Yes, it costs $399 and includes a security alarm, but the Randoseru is the Honda of backpacks: designed to survive years of abuse (Babesta, 66 W. Broadway, nr. Warren St.; 212-608-4522).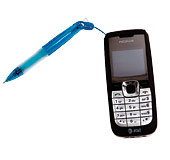 The fun, functional Pilot Dr. Grip pencil dangles conveniently from a cell phone ($3.70 at Kinokuniya).