"My kids go nuts over anything that glows in the dark."
Blinking-pumpkin necklace, $7 at Balloon Saloon, 133 W. Broadway, at Duane St.; 212-227-3838.
"The eyeballs percolate and make this gross bubbling sound that just freaks people out."
$25 at Spirit Halloween Superstore, 20 E. 4th St., at Lafayette St; 212-228-9423.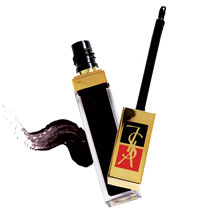 "Black lip gloss works fine for vampire getups. It's also pretty fashionable right now."
YSL Gloss Pur Black, $29 at Bloomingdale's, 1000 Third Ave., at 59th St.; 212-705-2000.
"The way this costume frames a kid's face—it's just too cute. It's also an unexpected alternative to a ghost."
$24 at PB & Caviar, 88 Thomas St., nr. Hudson St.; 212-608-1112.
"My little girl, Yori, has been toting this candy pail around the house as her 'purse' ever since I brought it home."
$12 to $18 at Kate's Paperie, 8 W. 13th St., nr. Fifth Ave.; 212-633-0570.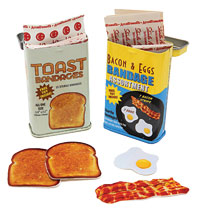 "Here's a quick costume: Put on a couple of these and presto! You're breakfast."
Toast and Bacon & Eggs bandages, $9 at Fred Flare, 131 Meserole Ave., nr. Leonard St., Greenpoint; 718-349-1257; opens October 24.
"Another excuse to drop by our favorite neighborhood bakery."
Cookies, $1.50 to $3.50 at Duane Park Patisserie, 179 Duane St., nr. Greenwich St.; 212-274-8447.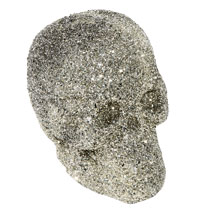 "A spooky-cool prop to complement the Frida Kahlo costume I'm wearing this year."
Glitter skull, $19 at Pottery Barn, 1965 Broadway, nr. 67th St.; 212-579-8477.
"A safety drill makes pumpkin-carving easier on the little ones."
Dremel pumpkin-carving drill, $30 at Williams-Sonoma, 10 Columbus Circle, at 60th St.; 212-823-9750.
"When my dad was a kid at Halloween, my grandmother would put lipstick around his eyes and cheeks. This is better."
Fake blood, $3 at Ricky's, 590 Broadway, nr. Houston St.; 212-226-5552.