Try not to intuit any coded messages about squirreling away your savings for the long, hard economic winter ahead. (Though, admittedly, it's not a bad idea.) Rather, consider this cute-enough-to-cuddle squirrel lamp ($138 at Michele Varian, 35 Crosby St., nr. Broome St.; 212-226-1076) a reminder that fun and creativity (and adorable porcelain critters) should never be excluded from the indoors—especially when it's getting cold and dreary outdoors. For more lighthearted ways to light up a room, click ahead.
Rubber gummy-bear lamp ($100 at Property, 14 Wooster St., nr. Canal St.; 917-237-0123).
French modern chrome lamp ($575 at Georgia Tapert, 456 Broome St., nr. Mercer St.; 212-334-7969).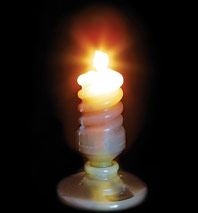 Bulb-shaped candle by Harry Allen ($25 at Matter, 227 Fifth Ave., nr. President St., Park Slope; 718-230-1150).
Cloth-petal orchid lights ($30 for a "bouquet" at Daily 2-3-5, 235 Elizabeth St., nr. Prince St.; 212-334-9728).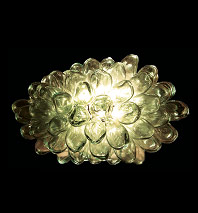 Cluster lamp made of handblown glass ($280 at Michele Varian, 35 Crosby St., nr. Broome St.; 212-226-1076).
Decorative lightbulb ($6 at Lighting Plus, 680 Broadway, nr. Bond St.; 212-979-2000).
Metal table lamp ($185 at Matter, 405 Broome St., nr. Center St.; 212-343-2600).
Black fiber-optic spray light ($9 at Character, 19 Prince St., nr. Elizabeth St.; 212-274-1966).
Saltwater Flora lamp with seashells ($348 at Anthropologie, 50 Rockefeller Plz., nr. Fifth Ave.; 212-246-0386).