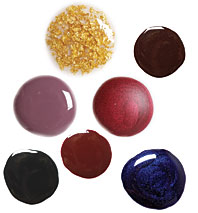 This fall's rich, offbeat nail colors nod to the world of interior design.
Clockwise From Top
• Gold leaf by Rococo Nail Apparel ($16.50 at Space NK, 99 Greene St., nr. Prince St.; 212-941-4200).
• Dry Martini by Jin Soon for M.A.C. ($12; 1 E. 22nd St., nr. Broadway; 212-677-6611).
• Posh/Mat by Zoya ($6 at Sweet Lily, 222 W. Broadway, nr. Franklin St.; 212-925-5441).
• Indigo by Lancôme ($18; 201 Columbus Ave., nr. 69th St.; 212-362-4858).
• Dance All Night by Jin Soon for M.A.C.
• Beyond Jealous by Jin Soon for M.A.C.
• Get Mauve-ing by Barielle ($8 at Concord Chemist, 485 Madison Ave, nr. 51st St.; 212-486-9543).
Royal Apothic room scents don't overwhelm your apartment and look fancier than their price ($28 at Anthropologie, 50 Rockefeller Plaza, nr. 50th St.; 212-246-0386).
Photographer Sam Haskins is pairing up with Tommy Hilfiger to release Fashion Etcetera, his first book in twenty years, this September ($100 at Tommy Hilfiger, 681 Fifth Ave., nr. 54th St.; 212-672-4500). An exhibition of Haskins's work, including Remember Barcelona (left), starts September 19 at Milk Gallery.