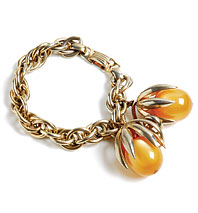 Wendy Mink's expanded collection of vintage jewels includes this bracelet with bauble charms from the sixties ($105; 72 Orchard St., nr. Grand St.; 212-260-8758).
Start Here notebooks click together so you can consolidate to-do lists and de-clutter your desk ($16 at Project No. 8, 22 W. 29th St., at Broadway; 212-725-0008).
Designer Jennifer Esposito's ottomans (called Jenny's Blocks) are half kids'-room décor and half playground ($250 to $3,600; 917-226-0800).