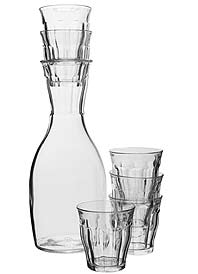 Posted August 25, 2006
The Cooper Hewitt has finally, finally, put up an ecommerce site. It doesn't have the same breadth as other museum sites, but this first effort has a pretty good selection and a few surprises. Like this carafe and glass set for—can it be?—$20. It's a great hostess gift, housewarming gift or gift for people, like me, who break glasses on a regular basis.
$20 at www.cooperhewittshop.org.