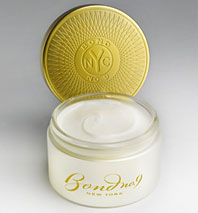 Posted Aug. 10, 2007
It's strange that Bond No. 9 never had a line of body products to complement their neighborhood-themed fragrances. But finally, after much begging from customers, a new series rolls out with the 24/7 New York Body Silk. The rich, heavily perfumed cream rubs in easily, isn't greasy, and thoroughly moisturizes rugged knees and tough feet. As of now, it only comes in the seven top-selling scents (Eau de New York, Nuits de Noho, Chinatown, the Scent of Peace, Bryant Park, West Side, and Chelsea Flowers), so if your favorite isn't represented, you'll have to switch—otherwise, who knows how long you're going to have to wait.
$105 at 9 Bond St., nr. Lafayette St.; 212-228-1732.