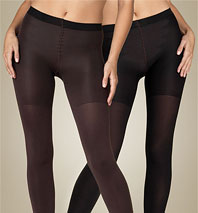 Posted December 5, 2008
We're loath to utter the word "recessionista," but reversible–now that is one we can sink our hard-earned dough into. Which is why we are thankful for Two-Timin' tights from Spanx: They do double duty for your legs. One day wear them black; the next, brown–or better yet, midnight (don't underestimate the subtle statement of a navy tight). And in true Spanx fashion, they suck you in just enough so that you look like the spring version of yourself, even in the dead of winter.
$34 at Nordstrom.com.