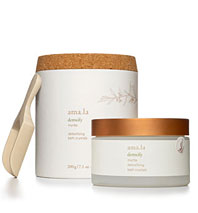 Posted February 6, 2009
It's peak flu season and for any sick girls out there, nothing can be more unsexy than Vicks. Luckily, for those who need to feel pampered and chic while coughing up a lung, Amala's detoxifying bath crystals ($48) and detoxifying body oil ($28 to $48) do just that. A couple of scoops easily dissolves in hot water, doesn't leave any residue on your body or tub, and, most important, the high dose of myrtle opens up your chest and clears out your sinuses almost instantly. Slather on the oil and you can practically sleep through the night.
$28 to $48 at AmalaBeauty.com.