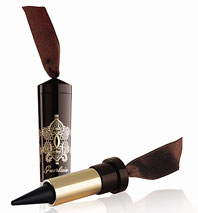 Posted April 17, 2009
Since it's not a pencil, you'll wonder how Guerlain's new Terracotta Kohl Kajal in Black Fakhir can be sharpened. After trying out this little piece of heaven, take note that the point doesn't get dull (when applied at an angle, that is). And the color is rich and deep, so one swipe instantly makes eyes sexy—and most important, it doesn't irritate the slightest bit. Plus, how can you not fall in love with kohl eyeliner packaged like fancy lipstick?
$35 at Bergdorf Goodman (754 Fifth Ave., at 58th St.; 212-753-7300).