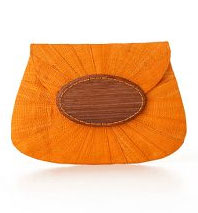 Posted March 10, 2008
No one wants to be the dork at a party, stuck toting a huge, heavy purse. So ditch fall's ten-pound weights and instead opt for a bright, bold clutch. Carolina Herrera showed beaded metallic ones for spring; Burberry's were big and blue. And now Anthropologie offers vivid orange or pink "Seal-of-Approval" bags. They're small enough to not be a burden but roomy enough to fit a phone, lip gloss, and wad of cash. And the snap closure ensures that all of your belongings will stay tucked safely away. So stash the bulky sacks and stick with a clutch that really pops, no matter what you're wearing.
$68 at Anthropologie.com.