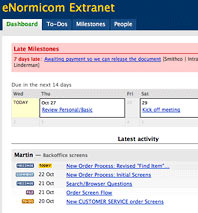 Posted March 16, 2006
My new favorite Web-based service is this brilliantly useful thing called Basecamp. Its clever online toolset lets you easily manage a project with to-do lists, messages, "milestones" (timed lists of specific things that need to get done by particular dates), and something called "writeboards" (online documents that multiple people can edit and comment on, with every previous draft saved and easily retrieved). Updates to your project can automatically be emailed to everyone involved—directing them to Basecamp to share further information, and thereby eliminating maddening muddles of back-and-forth email. I've been using Basecamp to help manage a non-profit group I'm involved with, but there's nothing stopping you from using it to organize household tasks, an upcoming event (a party? a wedding?) or even an office project. Tons of businesses are using paid versions of Basecamp (there are various tiers of bells and whistles available), but I've found the free version to be surprisingly robust. Seriously, it's an elegant, powerful, revolutionary thing. It takes just minutes to set up. And it works entirely within the Web browser on your PC (you'll need Firefox or Internet Explorer 6 or later) or Mac (Firefox or Safari).
Free (and up) at basecamphq.com.