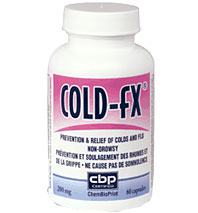 Posted November 30, 2006
A few years back some Canadian friends turned me on to a cold remedy called Cold-fX, which they swore was the closest thing to a cure for the common cold. Take it just as you're starting to feel symptoms (sniffles, a scratchy throat, etc.) and it'll knock the cold out of commission, or, at the very least, dramatically reduce its intensity. Amazingly, this stuff generally lives up to the hype. Cold-fX's active ingredient is a highly purified isolate of North American ginseng that is believed to strengthen your immune system. And now, finally, it's been approved for sale in the U.S.
$13 (currently on sale for 10 percent off) for an eighteen-capsule box at CVS.