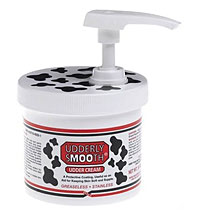 Posted February 15, 2007
My Sigerson Morrison boots won't last five minutes in the winter weather, and unfortunately, neither will my regular moisturizer. Instead I've had to resort to this tub of Udderly Smooth, a cream originally made for chapped cow udders. The packaging is horribly uncool, as is the name, but I've never had smoother skin in my life—even on my face. The cream also smells fresh and mild, a far cry from the barnyard whiff I was expecting.
$4.50 at Trader Joe's, 142 E. 14th St., at Third Ave.; 212-529-4612.