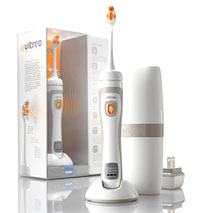 Posted Sept. 6, 2007
For years I've been a semi-obsessed champion of Sonicare, a high-end sonic-wave toothbrush, because using it means I always get raves from my dentist. The Sonicare's been the state-of-the-art power toothbrush for more than a decade, but now a new company, Ultreo, has introduced a namesake toothbrush that combines sonic waves with something called "ultrasound waveguide technology." I've been using it for a week, and it feels pleasantly less aggressive than the high-vibration Sonicare. Plus the foamy paste it creates is incredibly effective at targeting nooks and crannies (it's clinically proven to remove up to 95 percent of hard-to-reach plaque in 60 seconds). Reassuringly, there are heavy-duty scientists behind Ultreo, including famous ultrasound expert Dr. Pierre Mourad of the University of Washington. He got National Institutes of Health grants to help develop this tooth-tech wonder.
$169.99 at Drugstore.com

• Buy it online.