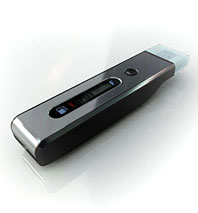 Posted Jan. 17, 2008
If you paid attention to any of the slavish coverage of last week's Consumer Electronics Show—that behemoth annual Las Vegas coming-out party for tech toys—you probably got drowsy pretty quickly because there were scant few products to get excited about. Well, at least one buzzed-about, truly useful item announced at last year's CES. has finally made it to market: The Ecosol Powerstick, an ingenious little device, not much bigger than a Bic lighter, that plugs into the USB drive of your computer, storing up power (within 90 minutes or so) that you can then use to recharge tons of different tech toys—cell phones (Nokia, Motorola, iPhone, Blackberry, etc.), iPods, and so on. It comes with nine different adapters (check the Website to see if your devices will work with it), so you no longer have to lug multiple, chunky power adapters for your various gear. It's available now at Powerstick.com and will start rolling out into retail stores this spring and summer. Works with any PC or Mac (including, yes, the MacBook Air) with a USB port.
$69.95 at Powerstick.com.