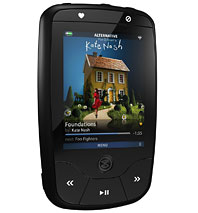 Posted January 15, 2009
Last spring, when a new iPod competitor called the Slacker Player came out, we raved about it, calling it a "powerful, portable music-discovery engine." The genius of it is that it allows you to put internet radio in your pocket (no subscription charge if you're willing to endure a few minutes of commercials per hour), and you can even customize your own radio stations built around your favorite bands. Getting to enjoy old and new music for free—legally!—from Slacker's two-million-plus song library more than made up for the relative clunkiness of the first-generation device. But now you don't even need to shell out for a player. Last week Slacker introduced a free Slacker Radio App for BlackBerry—and this week they added an iPhone version. We've been testing them, and they're both terrific; you get hi-fi stereo sound and a really nicely designed user interface. If you don't have a BlackBerry or an iPhone, though, we also like the new Slacker G2 (shown here), a curvier, prettier version of the original player.
$199.99 and up for the Slacker G2 at Slacker.com; iPhone and BlackBerry applications free.