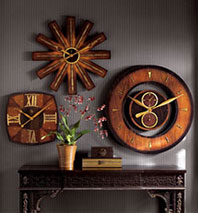 Posted March 18, 2008
Though it's definitely time for the gnarled-wood trend to head back to the (we hope sustainable) forest, there's no denying that a good wood piece will warm up even the most minimal interior. These clocks, for example, have a design that's bare enough to feel modern yet decorative enough to hold their own as a statement accessory. They're wood with brass accents and run on AA batteries, meaning no awful cords to ruin their sculptural lines.
$135 to $295 at Neimanmarcus.com.