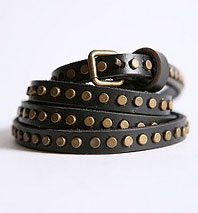 Posted September 30, 2008
There's something charming about the look of understated studs. It's a way to use the embellishment without screaming, "Anarchy!" Which is exactly why we're loving this skinny studded belt by Urban Outfitters. Not only does it have mini-studs in the shape of flat circles (not the overused pyramids), but there's only one row of them, so it's not overpowering. Plus, it's versatile, as you can slip it through the hoops of your jeans or tie it over a long cardigan to add some spunk to any outfit. Snag it in black, tan, or brown and go ahead, cinch it on.
$24 at UrbanOutfitters.com.