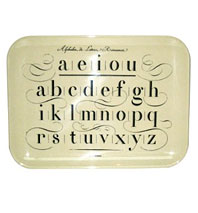 Posted October 7, 2008
John Derian's collection for Target is one of the best we've seen yet, which explains why it's almost always sold out when we hit the stores. What you see in the pictures is actually what you get: good materials, good execution, and all at a great price. Though the collection includes paper products, the real stars are the plates and trays. Blame our urge to nest on the seasonal shift, but we're fawning over this trinket-size alphabet tray. It looks just vintage-y enough to fit nearly any décor, and the melamine means it won't break when you invariably knock it over.
$12.99 at Target.com.