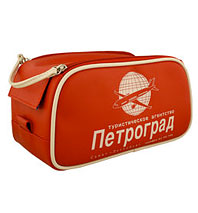 Posted December 23, 2008
The guys at Flight 001 seem sentimental for the days of yore when air travel was a civilized experience, not the cattle call it is today. Their new collection of Dopp kits are reminiscent of seventies designs—PVC cases with retro graphics and colors, the kind travel agencies used to give away to clients. Each has a double-zipper design, graphic lining, and a zipper pocket inside for small items. Choose from blue (Japan), yellow (Palermo, Italy), brown (Armacao, Portugal), or red (St. Petersburg, Russia).
$36 each at Flight001.com.