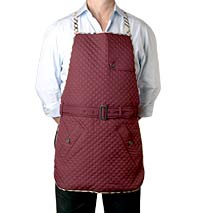 Posted November 22, 2006
One of my favorite holiday catalogues comes from God's Love We Deliver, a charity bringing nutritious meals to those with AIDS, cancer, and other serious illnesses. To help the cause, the team at Burberry designed this exclusive apron, with pocket details matching their famous trench coat and familiar plaid piping. With all proceeds going to the charity, it's a great gift for an amateur chef and a coup for anyone on kitchen duty this Thanksgiving—just because you're stuck basting a turkey doesn't mean you can't look more chic than your guests.
$70 at Godslovewedeliver.org.