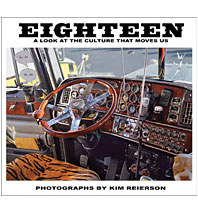 Posted February 21, 2007
Brooklyn-based photographer Kim Reierson's fascination with all things truck-related has finally manifested itself into a new, self-published book. Eighteen: A Look at the Culture That Moves Us is a glimpse into the lives of drivers, truck stops, and cab interiors. When Reierson initially embarked on the photo project, friends feared for both her sanity and safety. She survived on all accounts, and the resulting book is both mesmerizing and affordably priced.
$35 at Kimreierson.com.