Cog & Pearl
190 Fifth Ave., at Sackett St., Park Slope, Brooklyn; 718-623-8200
The husband-and-wife team behind this home-and-accessories shop support local artists as well as the products they create; information cards are placed near every item. Find Erica Weiner's collection incorporating found objects from around the world, like her Devendra necklace (right), which pairs a mottled feather and a mesh ginkgo-leaf charm on a brass chain ($35).
Refinery
254 Smith St., nr. Degraw St., Carroll Gardens, Brooklyn; 718-643-7861
At Refinery, owner Suzanne Bagdade sells her own line of handbags made from vintage fabrics alongside jewelry from local designers like Anna Johansson. Johansson's Anna Built line of earrings is handmade from reclaimed and recycled metals, like tea canisters, enameled cans, or decorative vintage tins ($22).
Catbird
219 Bedford Ave., at N. 5th St., Williamsburg, Brooklyn; 718-599-3457
The Bedford Avenue location of this pair of shoebox-size accessories shops was the first to scoop up Leigh Batnick's Vagabond Picnic by Jezebel collection when it launched last month. Though she's known for her whimsical stationery, Batnick's earrings, necklaces, and rings fitted with gleaming 14-karat-rose-gold ants make for clever summer accent pieces ($200 to $400 each).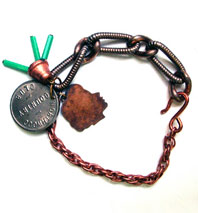 At Catbird's original location, another favorite is Ach Ach Liebling, Joanna Petrone's line of antique-inspired pieces with brass and hand-fabricated plastic. Her eclectic "Poor Little Rich Girl" chain bracelet ($40) is decked with bell and silhouette charms, glass beads, and a coin token reading "Northwood Country Club."
Min-K
219 Mott St., nr. Spring St.; 212-219-2834
Parsons grad Minji Kim carries the A.S.I.S. (short for Angela Spencer's Irresistible Stuff) line of hand-crocheted earrings and necklaces in her pair of mod, vintage-inspired boutiques. Spencer weaves these feather-light earrings from vintage cotton, passed down from her great-grandmother ($40 to $48).
Camilla Boutique
355 Atlantic Ave., nr. Hoyt St., Boerum Hill, Brooklyn; 718-422-0282
This green-minded spot peddles stylish ecofriendly apparel, home décor, and accessories, including stainless-steel jewelry from Prismera Design by Laura Su. Trained as an illustrator, Su creates intricate pieces featuring Art Nouveau–inspired botanical shapes like honey locust, fir (right), or rosemary ($75 to $150).