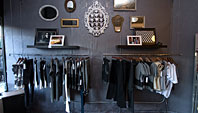 Love Brigade Co-op
230 Grand St., nr. Driggs Ave., Williamsburg, Brooklyn; 718-715-0430
Open Since: 2006
The Talent: Founded by four expat Brits—Alyssa Key, Jamie Rockaway, Allison Press, and a creative director who goes by TinyPants—this Williamsburg co-op houses 25 indie and established designers hailing from New York, L.A., Chicago, Italy, Japan, and beyond.
The Vibe: On-site designers maintain a laid-back feel here, chatting with shoppers from central couches or popping in and out of the studio space in back. While the Love Brigade line specializes leans toward the slightly edgy—metallic minidresses, cutout skinny denim, asymmetrical skirts, goth-influenced accessories—the co-op designers cover a range of styles, from statement-making separates to streetwear.
The Draw: Dresses and graphic tees from LB's Cobain-inspired fall collection, "Love, Kurt," twill skirts with velvet trim by Sumie Tachbana, campy retro dresses by Jessica Harris, chain-link jewelry by Steel Couture.
When to Go: August 15 to 17, for the co-op's first end-of-summer sale. Select dresses, tops, jackets, and pants from emerging co-op designers will be up to 50 percent off.
The Dressing Room
75A Orchard St., nr. Grand St.; 212-966-7330
Open Since: 2007
The Talent: East Village stylist Nikki Fontanella and co-owner Alexandra Adame handpick the diverse assortment of around a dozen fashion designers and a handful of accessories lines, most based in New York.
The Vibe: Half old-fashioned bar, half boutique and design studio, the 1,650-square-foot space caters to a downtown crowd with eclectic, one-of-a-kind ensembles. Mornings are usually mellow, but in the evenings the boutique and adjoining bar fill up fast.
The Draw: Feminine frocks tempered with bold red sashes from PH by Phillia, elaborate beaded cocktail dresses from Bian, and bargain vintage shoes in the tucked-away basement space. (Recent finds include lightly worn heels by Stuart Weitzman and Charles Jourdan starting at $10.)
When to Go: After work. Happy hour goes until 9 p.m., and on August 14, see a screening of short films by students at the New School (8 p.m.).
5 in 1
60 N. 6th St., nr. Kent Ave., Williamsburg, Brooklyn;
718-384-1990
Open Since: 2006
The Talent: The brainchild of graphic designer Norman Rabinovich, 5 in 1 is an open workspace for independent creatives. Anywhere from five to ten jewelry and clothing designers work alongside graphic artists and architects in the roomy rear studio.
The Vibe: The designers here are more established than those in some of the burgeoning collectives—Uluru is also carried at Barneys—and the racks yield tailored, polished pieces in a slightly higher price bracket.
The Draw: Funky cocktail dresses by H. Friedriksson, cashmere sweaters and chunky knits from Uluru, resin cocktail rings by Made Her Think.
When to Go: August 23, for a sample sale on Made Her Think jewelry and clothing from Alabama Chanin and Uluru.
Ekovaruhuset (House of Organics)
123 Ludlow St., at Rivington St.; 212-673-1753
Open Since: 2006
The Talent: Ecoconscious Swedish designer Johanna Hofring (self-proclaimed "godmother of the eco-nerds") opened her first boutique in Stockholm in 2004, and she launched this New York outpost two years later. Here, she showcases a mix of New York and Scandinavian apparel crafted entirely from organic fabrics.
The Vibe: Find environmentally responsible clothing without the frumpy granola stereotypes. The immaculate shop is artfully arranged, with sustainable wood-heeled pumps and lace-up boots lined up beneath racks of clothing. Designers stitch at the register during downtime, and the well-edited stock includes tanks with delicate crocheted necklines, backless cotton dresses, and fitted wool jackets.
The Draw: Belted Empire-waist dresses by Amy Mohlenhoff, detailed winter coats from Anja Hynynen, lace-trimmed lingerie, and high-heeled booties by PJUX (slang for "shoes" in Scandinavian).
When to Go: August 17 brings an after-hours tea-party, in honor of the shop's recent renovations. A monthlong summer sale lasts throughout August, with 30 to 50 percent discounts on men's and women's collections.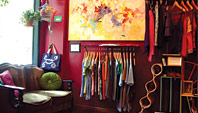 Brooklyn Collective
198 Columbia St., nr. Sackett St., Red Hook, Brooklyn; 718-596-6231
Open Since: 2004
The Talent: A dozen rotating artists, photographers, and jewelry and clothing designers rent space in this vibrant, tiny shop. Participants work at their own pace, pitching in for rent and reaping 100 percent of the profit.
The Vibe: The bright red walls are covered in vibrant oil paintings and decorative ceramics, available for purchase along with the clothing, accessories, and quirky home furnishings packed into the shop. Sellers stop in periodically to refresh their collections, but the Collective is known for its art openings (the next one is in October), when the designers and artists converge at local bars.
The Draw: Majenty's roll-on perfumes, sterling-silver charm necklaces by Lewis Henry Nicholas, Tessa Phillips's lacy camisoles sewn from vintage silk.
When to Go: The last week in August, when lingerie designer Colleen Cotts unveils her lacy underthings and Brooklyn Flea regulars Coral and Tusk showcase their intricately embroidered tees.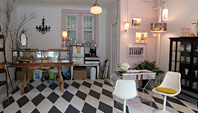 Urban Alchemist
343 5th St., nr Fifth Ave., Park Slope, Brooklyn; 718-499-0758
Open Since: 2008
The Talent: Jewelry designers Rebecca Shepherd and Imaan Selim hit it off while selling their jewelry at the Brooklyn Indie Market and hashed out a concept for this funky collective. The pair launched the boutique with a handful of Etsy designers and market regulars, selling jewelry, handbags, vintage furniture, and home décor.
The Vibe: Crafty locals and vintage hunters browse a mix of modern, Art Deco, and organic jewelry made of sterling silver, enamel, resin, and semiprecious stones. Each designer works one day a week at the shop, turning the open, black-and-white tiled space into a makeshift studio.
The Draw: Eswera Jewelry's asymmetrical, layered chain necklaces, polished wooden rings by Via Nativa, and hand-stitched leather bags.
When to Go: August 30, for the in-store "Circus" party (6 p.m. to 10 p.m.). The end-of-the-summer bash will have a barbecue–meets–Coney Island vibe, says Selim, and will include food, beer, and performers.