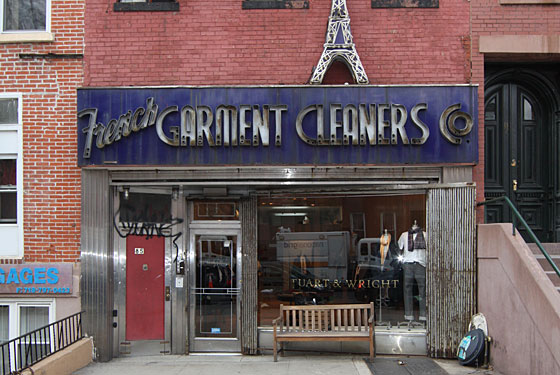 Stuart & Wright
When: 8/6–8/9; Th–S (10–8), Su (noon–6).
Where: 85 Lafayette St., nr. Portland Ave., Brooklyn; 718-797-0011
What You'll Find: 30 to 75 percent off clothing and accessories for men and women from over 30 covetable lines. The womenswear offerings include Isabel Marant, Vena Cava, Vanessa Bruno, and In God We Trust, while the men's side stocks Steven Alan, rag & bone, Shipley & Halmos, and more.
Venexiana
When: 8/7–8/10; F–M (10–7).
Where: 335 W. 35th St., nr. Eighth Ave., eighth fl.; 212-629-6868
What You'll Find: Rock-and-roll-inspired styles from Venexiana designer Kati Stern for 70 to 80 percent off. Jackets, shoes, and dresses that were originally $170 to $1,750 are marked down to $50 to $350. Bring cash!
True Boutique
When: 8/5–8/15; T–S (noon–7), Su (noon–6).
Where: 278 Mott St., nr. Houston St.; 212-431-7709
What You'll Find: Jeans, separates, and accessories are all 40 percent off. Silk and cashmere dresses and tanks from owner Katie Campbell's in-house line provide easy end-of-summer looks, but the real draw here is the denim, which includes James Jeans, Guido and Mary, and Beija Flor. Many styles are also discounted online, but pop into the store to take advantage of the free tailoring services while you wait.
Lauren Wolf Jewelry
When: 8/9–8/11; Su–T (ongoing).
Where: Online only, TheSavvy.com.
What You'll Find: Brooklyn-based jewelry designer Lauren Wolf's collection of sterling silver and steel jewelry inspired by coastal Mexico for up to 70 percent off. Her silver seahorse earrings are $72 (originally $180), the olive shell necklace on a coated steel chain is $36 (originally $90), and the silver sea-urchin bangles are $45 each (originally $112).
Mara Hoffman
When: 8/6–8/8; Th–F (10–7), S (11–6).
Where: 120 W. 28th St., nr. Sixth Ave.; no phone.
What You'll Find: End-of-the-season steals on swimwear and silk spring dresses. Prices start at $15—up to 80 percent off. That means bikinis for $30 and printed dresses for $60.
Ananas
When: 8/8–8/16; Daily (11:30–7:30).
Where: 248 Elizabeth St., nr. Prince St.; 212-925-2502.
What You'll Find: Leather and abaca totes, messenger bags, hobos, and clutches for 40 percent off. Designer Jennifer Baum Lagdameo incorporates natural embellishments, like mother-of-pearl shells and polished wood. The Coco leather clutch is $58 (originally $98), and the Vanessa leather messenger bag is $318 (originally $530).