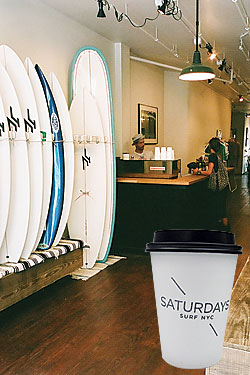 Urban Vintage
294 Grand Ave., nr. Lafayette Ave., Clinton Hill; 718-783-6045 (opening mid-March)
The stock: Vintage glassware and furniture.
The snacks: Locally roasted coffee, plus organic sandwiches.
La Casita Yarn Shop
253 Smith St., nr. DeGraw St., Carroll Gardens 718-963-0369
The stock: Over 40 types of wool, cashmere, mohair, and silk yarns.
The snacks: Espresso drinks, Spanish wines, empanadas from Empanada Mama.
Saturdays Surf
31 Crosby St., nr. Grand St. 212-966-7875
The stock: Racks of wet suits, board shorts, and surf books for the Rockaways devotee.
The snacks: Just coffee, but it's extra-strength La Colombe.
Organicoa
199 Lafayette St., at Broome St.; 646-205-8015
The stock: A small selection of hoodies and T-shirts—all organic cotton.
The snacks: Potent hot cocoa and chocolate-chip cookies. Work off your buzz playing Ping-Pong at the table up front.
NYC Motorcycle Federation
257 Sixth Ave., nr. Downing St.; 212-255-1234
The stock: Rows of biker jackets, Ruby helmets, customized leather seats, and shredded Harley tees.
The snacks: Illy coffee for now; Ceci-Cela croissants and prosciutto panini starting in April.
The Smile
26 Bond St., nr. Lafayette St. 646-329-5836
The stock: Moscot eyewear, BillyKirk wallets, and Santa Maria Novella fragrances.
The snacks: Plowshares coffee, Moroccan lamb meatballs and roasted pork sausages from the dinner menu.