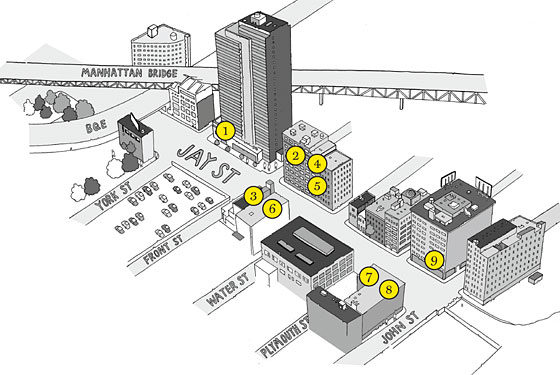 1. Choice Market
108 Jay St. (718-797-1695)
The newly opened outpost of the Clinton Hill café has a large beer selection and tasty prepared foods.
2. Egg by Susan Lazar
72 Jay St. (718-422-7811)
Lazar's pop-up shop for dapper tots became permanent last fall.


3. The White Gown
69 Jay St. (718-222-4696)
Brides spend hours trying on gowns at this no-pressure, no-rush bridal shop.
4. Trunk
68 Jay St. (718-522-6488)
A local design collective featuring flouncy dresses from Mel en Stel and leather bags by Corrente.
5. Cha Cha's House of Ill Repute
68 Jay St., Ste. 312 (212-420-7450)
Studded fedoras and feathered headpieces from New Orleans–inspired milliner Dina "Cha Cha" Pisani.
6. Emily Thompson Flowers
57 Jay St. (323-896-1494)
Sculptor turned florist Thompson stuffs her tiny studio with sculptures, stained glass, and wild, ferny bouquets.
7. Aviva Stanoff Design Studio
25 Jay St. (718-422-1262)
Best known for her botanical-print pillows, Stanoff also sells collectible glassware, bedding, and photo albums.


8. Brooklyn Eagle Claw
25 Jay St., Ste. 203 (718-858-5037)
What 8-year-old aspiring black belt wouldn't want to train at a kung fu studio called Brooklyn Eagle Claw?
9. Priviledged
14 Jay St. (718-797-0464)
The two-week-old boutique is currently showing some great spring jackets and gauzy skirts.