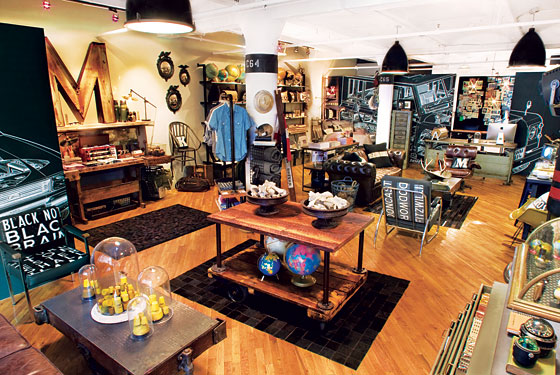 Modern Anthology
68 Jay St., nr. Water St., Dumbo; 718-522-3020
Though owners Becka Citron and John Marsala developed DIY Network's Man Caves series, don't expect green visors and foosball tables at their new Dumbo store and studio. The vibe is "less beer kegs, more Scotch," says Marsala, which translates to tufted leather sofas (from $2,450), vintage wood-and-wrought-iron worktables (from $1,775), and antique globes (from $40).
Strawser & Smith
487 Driggs Ave., nr. N. 9th St., Williamsburg 718-388-7600
The bulk of the reclaimed metal and wood furnishings at this four-month-old shop hails from Cleveland, where Jason Wein converts Rust Belt relics into something else entirely: A warped iron railroad bridge becomes the base of a reclaimed wooden dining table (from $18,000); mesh factory conveyor belts become pendant lampshades ($1,800 for two lamps).
Extra
10 Extra Pl., nr. E. 1st St.; 212-677-7465
Koji Kusakabe has road-tripped through 49 states—all but Alaska—plucking vintage pieces from estate sales and flea markets. At his two-month-old trove, you'll find painted-iron folding chairs from the thirties ($750 for three) and an enormous chalkboard map of the U.S. ($3,500).