Bikes
Recycle a Bicycle
75 Ave. C, nr. 5th St. 212-475-1655
Accepts bikes of all kinds, in any condition.
Kitchen Appliances
Build It Green! NYC
3-17 26th Ave., nr. 4th St., Astoria; 718-777-0132
Takes cabinets, fridges, stoves, and water heaters less than four years old; picks up on a case-by-case basis.
Electronics
Lower East Side Ecology Center
lesecologycenter.org
Holds roving events, accepting TVs, printers, computers, and phones.
Kids' Stuff
Baby Buggy
306 W. 37th St., nr. Eighth Ave.; 212-736-1777
Collects clothes, toys, and gear for children under 14.
Housewares
Vintage Thrift
286 Third Ave., nr. 22nd St. 212-871-0777
Accepts china, glassware, collectibles, and artwork; picks up large hauls.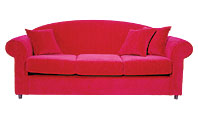 Mint-Condition Furniture
Housing Works
Multiple locations, 888-493-6628
Retrieves mid-century-modern anything, plus upholstered pieces, dining sets, and desks.
Worn Furniture
The Salvation Army
Multiple locations, 800-728-7825
Picks up large loads of lived-in furniture and clothes.