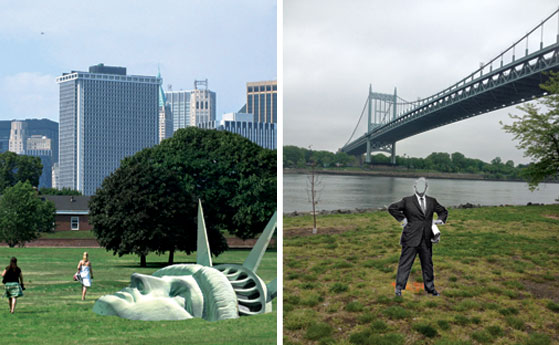 Governors Island
Open weekends 10 a.m. to 7 p.m.; govisland.com.
Artsy happenings: The return of the Figment Interactive Sculpture Garden, which now includes a full-scale replica of Lady Liberty's head (June 9 through September 23).
Other new attractions: The 200-year-old Castle Williams, open to the public for the first time ever. Tower access is by tour only; tickets are available on a first-come, first-served basis.
Caddyshack moment: Play a free round of putt-putt on an eight-hole arcade-themed miniature golf course.
Refuel on …: Brooklyn Summer Ale and bluepoint oysters at the new Little Eva's beer garden.
Rain plan: Check out Cooper-Hewitt's indoor exhibition "Graphic Design—Now in Production" in Building 110.
Nail the timing: See how baseball games were played 150 years ago when the Gotham Base Ball Club of New York hosts matchups June 2, 16; July 14, 28; and August 25.
Randalls Island
Open daily 6 a.m. to midnight; randallsisland.org.
Artsy happenings: Five new public artworks from FLOW.12, including life-size aluminum cutouts of Jesse Owens, Jimi Hendrix, and Robert Moses (June 2 through October 31).
Other new attractions: The 103rd Street Footbridge, newly reopened following a two-year renovation involving new lights, 24-hour security cameras, and fresh paint.
Caddyshack moment: Practice your swing in one of 82 hitting stalls ($10 for 65 balls or $14 for 110 balls, plus a $14 tee fee).
Refuel on …: Beer, wings, and foosball at the Golf Center's Beer Garden & Grill.
Rain plan: Linger on the newly resurfaced bike-and-pedestrian path beneath the Hell Gate Bridge.
Nail the timing: Track and field superstars compete in the Adidas Grand Prix on June 9; the Black Keys, Snoop Dogg, and Girl Talk play the Catalpa Music Festival on July 28 and 29.