Rock Stars - Celebrity Rings
Sure, they've got Oscars and Grammys, but what we really want to see is their trophy rings.
By Shyama Patel
Published 2002
Old-Fashioned Values: Vintage settings and stones are hipper than ever.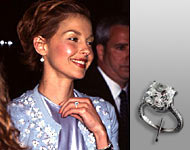 Ashley Judd's big smile (pictured) might have something to do with the ring she got from race-car driver Dario Franchitti. The antique cushion-cut diamond is in a pavé setting by Martin Katz.make.

Debra Messing makes a bold statement with the 1950s bezel-set engagement ring she was given by husband Daniel Zelman.

Joan Collins got two hearts from new husband Percy Gibson: his own, and a big diamond one in a nineteenth-century setting. He bought the ring at Fred Leighton.



The Big Picture: In certain Hollywood circles, size matters.

Brooke Shields lets nothing come between her and Chris Henchy — except maybe the rock on her finger, a cushion-cut from Stephen Russell. Her wedding band is by Neil Lane.

Catherine Zeta-Jones's most precious possession? Michael Douglas, of course. But her ring — a ten-carat marquis-cut style from Fred Leighton — must be a close second.

Jennifer Lopez showed her traditional side when she married Cris Judd — and started wearing a four-carat emerald-cut engagement ring.

Amanda Anka has this to thank fiancé Jason Bateman for: a three-and-a-half-carat diamond in a delicate twenties setting from Neil Lane.

Kate Hudson sure got a rock from her star Chris Robinson — her Asscher-cut diamond in an Art Deco mounting by Neil Lane weighs in at a whopping five carats.

Rebecca Romijn-Stamos's best-kept secret? A vintage four-carat Boucheron ring from husband John Stamos.

Reese Witherspoon isn't a "little" girl, as husband Ryan Phillippe must have known when he picked up a four-carat Asscher-cut diamond ring from Neil Lane.

Angie Harmon's Giant, Jason Sehorn, presented her with a fittingly massive round solitaire, set off with dainty baguettes.

Tiffani Thiessen must have guessed what Richard Ruccolo was proposing when he offered her a little blue box. Inside? A three-carat Lucida-cut ring from Tiffany & Co.



Three's Company: Packing triple the flash of a solitaire, three-stone rings have a wide appeal.

Madonna's Guy (Ritchie, that is) wowed her with an Edwardian-style ring with five carats' worth of round diamonds from Neil Lane.

Heidi Klum's most treasured trinket? Probably the engagement ring set with three round stones that she got from hairstylist Ric Pipino.

Toni Braxton's oval-shaped center stone from drummer Keri Lewis has a heart-shaped accent on either side. The four-and-a-half-carat ring is from Kay Jewelers.

Sharon Stone at her iciest? When she's wearing her engagement ring from Phil Bronstein, a three-stone, three-and-a-half-carat emerald-cut style from Louis Glick.



Solitaire Pursuit: A single stunning stone is all a classicist needs.

Drew Barrymore may be over Tom Green, but we bet she's still into the large round solitaire he gave her.

Barbra Streisand may be a funny girl, but the engagement ring she got from actor James Brolin —- set with a timeless one-carat round stone — is nothing to laugh at.

Whitney Houston's favorite solo performance? It has to be her oval-shaped diamond from husband Bobby Brown.

Jessica Sklar is Seinfeld's star. Hers is a Lucida solitaire diamond ring by Tiffany.


Photos: Tricia Meadows/ Globe Photos.
Ring details provided by the Diamond Information Center.
From the 2002 New York Wedding Guide