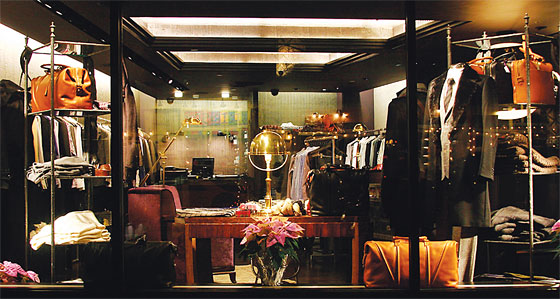 By Robert James
75 Orchard St., nr. Grand St. 212-253-2121
By Robert James is best described as hipster dandy: Gray and black tailcoats ($850), the inevitable screen-printed tees ($58), striped button-downs ($168–$188), and of course vintage tie clips ($35) are crammed into the homemade shop—owner James built the store's shelves himself. The Ohio transplant, who moved here to go to F.I.T., says the reputations of his neighborhood's stores (B Blessing, Naked Eye, and Shop are all nearby) practically guarantee retail traffic, even in bad times. "We have some of the coolest businesses in the city," he says. "Plus, I think the menswear movement is taking off right now."
Modish
188 Havemeyer St., nr. S. 3rd St., Williamsburg; 718-858-0836
They failed with their first store in Flatbush, and now there's the economy. Nevertheless, Charlie Delacruz and three childhood friends from the Lower East Side—Aneudy Romero, Ivan Grullon, and Tino Torres—decided to try again with a new streetwear store in more-trafficked Williamsburg. "Yeah, we were nervous, but if you keep putting it off, then you'll never do it," says Delacruz, who's also a manager at Katz's Deli. From corned beef to skater and hip-hop chic; the store is stocked with items that reflect the friends' own style—graphic tees, puffer coats, and sneakers from brands all over the country most have never heard of. "I see a brand, chase down the buyers, and try to convince them that I have to carry them," says Delacruz. The favorites are Pegleg NYC's multicolor crewneck sweaters ($100), Naked & Famous denim ($140 to $225), and Clae's black leather high-top shoelike sneakers ($130).
Kesner
524 Hudson St., nr. W. 10th St. 212-206-6330
Of the three, this has the most exciting merchandise mix, plus good atmosphere: Chaka Khan tunes in the background, velvet chairs, and a well-stocked bar on the lower level—it's hard not to feel at home in this pint-size boutique. Hypercurated like Brooklyn's Bird, Kesner is a blend of up-and-coming talent (Kris Van Assche), cult favorites (Veronique Branquinho), and new international labels like Antonio Azzuolo making their Stateside debut exclusively with the store. Former attorney Matthew Simon (he worked in operations for the Knicks) and former Bloomingdale's buyer Philip Silverman have done a subtle, smart job of mixing interesting fashion pieces—Spurr's $2,850 leather jacket—with unintimidating basics like a plain blue Tim Hamilton button-down ($295).