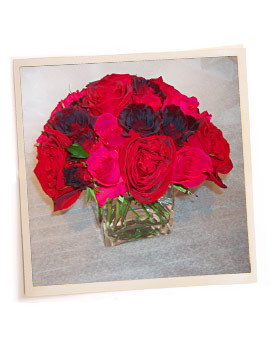 Posy Floral Design
$100

I used to think Valentine's Day was invented to trick guys into buying cheesy cards. But then, six months ago, I got married. Now I've decided to blow her mind (and my paycheck) on a headboard-busting floral arrangement. I began my hunt at Posy, a snug, second-story shop on the Upper East Side. The owners, Paula and Stamos, offered me a domelike bouquet made up of three types of roses: deep-scarlet "cherry loves," burgundy "black beauties," and small, fuchsia "sexy ladies." It was clearly worth the price tag—the flowers were expertly chosen and the construction was simple, precise, and gorgeous. But my own "sexy lady" deserves something with more personality. 145 E. 72nd St., nr. Lexington Ave.; 212-744-7788
Dulken & Derrick
$250

If your marriage is supposed to last a lifetime, then maybe your flowers should too. That strange logic led me to Dulken & Derrick, the venerable silk-flower maker in the Flatiron. After calling ahead, I was led into the sixth-floor workshop—a comically messy labyrinth—by the shop's third-generation owner, Pamela. She showed me a small nest of faux-roses, leaves, and sprigs (too bridesmaid-y); a misshapen bunch of long-stems dyed a nauseating Pepto pink; and finally, a fistful of amazingly lifelike white silk blooms. Tied with green organza tubing and wrapped in tissue, the bouquet was romantic and picturesque but also absurdly expensive ($250). On the plus side, I could give these same flowers to Alexis every year. On the minus, she'd divorce me if I did. 12 W. 21st St., nr. Fifth Ave.; 212-929-3614.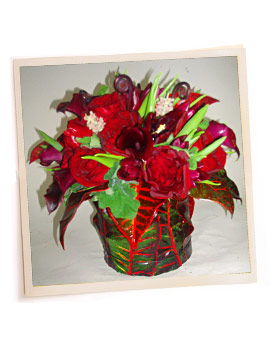 Takashimaya
$350
Splurge Find
At Takashimaya, I asked senior designer Brandon Lewtich how long a bouquet should survive before wilting. "It's not about how long it lasts, it's about how beautiful it is," he said. I couldn't imagine an arrangement more beautiful (or sexy) than the darkly exotic bundle he threw together for me. Springing from a glass vase (itself artfully wrapped in fire-striped croton leaves) was an explosion of burgundy roses, aubergine tulips, tightly curled fiddleheads, schwarzwalder calla lilies, and verdant geranium foliage. $350 is a lot to spend on something that will die in a week, but this kind of excess would surely impress my wife for a lot longer than that. 693 Fifth Ave., at 54th St.; 212-350-0111.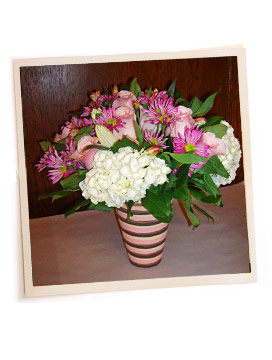 Dahlia
$75

Looking for something a little less punishing on the wallet, I descended into Grand Central to check out Dahlia, the tidy, blazingly efficient floral shop located right across from Track 40. I could have easily grabbed one of the store's cheaper ready-made bunches, but instead I locked my eyes on a towering pink arrangement in a matching striped ceramic vase. The bouquet was a collection of white hydrangeas, violet daisies, pink titanic roses, green-freckled alstroemeria, and Dutch starfighter lilies. At $75, it was more expensive than I had hoped—this was a kiosk in a train station, after all. 43 Grand Central Terminal; 212-697-5090.
Michael George
$200

Next up, Michael George, best known for working with designers (Vera Wang, Rachael Roy, Michael Kors) and persnickety editors. A staffer named Ming recommended a simple, elegant armful of long-stemmed tulips, which she said would make me seem more "unconventional, funky, untraditional" than the typical Valentine's Day buyer. The bouquet ($200) was exquisite, with a dozen still-closed bulbs snaking sexily out of a tall cylinder vase. If I weren't supposed to be shopping for my wife—and I weren't a 100 percent macho guy—I might have bought them for myself. 701 First Ave., at 41st St.; 212-883-0304.
Belle Fleur
$225

Underlying any man's hunt for a Valentine's Day bouquet is—let's be honest here—the promise of sex. I can't imagine sending Alexis a more explicit come-on than the "corset bouquet" ($225) from Belle Fleur. You've got heart-shaped fiddlehead ferns; wrapping tissue sprayed with house-made fragrance; a bushy array of pinker-than-pink peonies; and the coup de grâce, a pink satin ribbon stitched up Frederick's of Hollywood style through the vase's brown suede sleeve. This bouquet doesn't mince words—that approach might work for some guys, but I'm not one of them. 134 Fifth Ave., nr. 18th St.; 212-254-8703.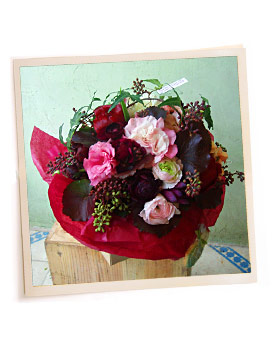 Polux Fleuriste
$150

At the French-country storefront Polux Fleuriste in Soho, I was presented with a box of little flourishes ($150) that seemed just a tad too precious. Springing out of a cardboard container were magenta peonies, burgundy ranunculus, little black tulips, pods of eucalyptus seeds, and as garnishes, looping strands of ivy and edible-looking galax leaves. By itself, each flower was certainly beautiful, but the more I looked at the mix, the more it felt like a confused (and confusing) jumble. 248 Mott St., at Prince St.; 212-219-9646.
Eli's
$46
Bargain Find
Since Alexis was raised in San Francisco, it seemed appropriate to give her something a little earthier. Inside the tiny floral boutique at Eli's market on the Upper East Side, I asked the friendly clerk, Martin, to assemble a bouquet that looked like I'd picked it myself. He strung together a small bushel of pomegranate-red anemones, bubblegum spray roses, little white quinces, and faded pink ranunculus, adding two skinny twigs to the bunch for impressive verisimilitude. If we lived in, say, Napa or Provence, I could make her think I picked this wild bunch right from the side of the road. A pretty good score for just $46. 1411 Third Ave., at 80th St.; 212-717-8100.